Recipes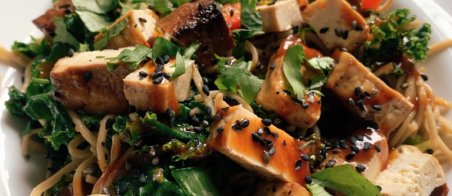 Air Fryer Tofu (with oven baked option)
Are you air fryer curious? I've had my air fryer for several months now, and I LOVE it!
It's really handy for warming up food — and developing a pleasing crunchy outside on quesadillas. And it's also perfect for getting a "fried" like exterior on all kinds of veggies, as well as this tofu.
This Air Fryer Tofu is one of my go-to, prep-ahead protein recipes. Inspired by the delicious fried tofu you find in Asian restaurants, this version is made without all of the oil and the frying. Much healthier, plus super easy to make.
I like to make a double batch of this tofu early in the week. That way, I have protein ready to go for a quick stir-fry, Buddha Bowl, or even on top of a salad.
Ingredients
3 tablespoons of reduced sodium tamari (or soy sauce)
3 tablespoons of maple syrup
1 teaspoon toasted sesame oil
1 teaspoon chile paste (optional)
1 block of extra firm tofu (ideally organic)
Directions
Step 1

Prepare the tofu: remove from packaging and discard liquid. Press the tofu to remove excess liquid. Use a tofu press if you have one. Or, you can just wrap the tofu in a clean kitchen towel and place on a plate. Add a cast iron skillet or heavy pan on top of the tofu bundle, and then add a can or two on top of that for extra weight. Let the tofu sit for about 10 minutes, then remove from the towel.

Step 2

Add the rest of the ingredients to a container with an airtight lid (with room for the tofu). Whisk until incorporated.

Step 3

Cut the tofu into cubes. Add the tofu to the marinade and put the lid on. Turn the container upside down so the marinade can start coating the tofu evenly. Put in the refrigerator for a few hours, turning the container upside down to make sure the tofu pieces are getting coated with marinade. Note: don't marinate for more than 24 hours, or else the tofu will start to break down.

Step 4

When ready to bake the tofu, preheat your air fryer to 350 degrees. If using an oven, preheat oven to 375 degrees.

Remove the tofu from the marinade and place onto your air fryer tray. Or, line a baking sheet with parchment paper, and set the tofu cubes onto the tray.

AIR FRYER INSTRUCTIONS: bake for about 10 minutes total, checking frequently to stir, and make sure the cubes aren't burning.

OVEN INSTRUCTIONS: bake, uncovered, for about 35 minutes, carefully turning the cubes with tongs or a spatula every 10 minutes or so.

Step 5

BOTH METHODS: When the tofu has a taut, seared appearance, and the marinade has mostly evaporated, it's ready to serve. If using the air fryer, the tofu should be lightly browned and slightly crisp on the outside, and tender on the inside.

Add your tofu to rice bowls, noodle dishes, stir fries, or as a protein source for any salad.