Recipes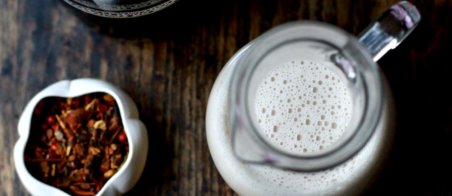 Almond Chai Coffee Creamer
Plant-based milk and coffee creamer have come a long way in recent years. Check them out at the store and you'll find all sorts of options including almond, coconut, cashew, and soy.
While these products can be helpful when we're trying to avoid dairy, they can also have some additives, sweeteners, and thickeners that aren't so great. Making your own creamer at home is fun because you can customize the level of sweetness, and play with the quantity of water to achieve your desired consistency. You could also swap out different nuts, using almonds, cashew, brazil, or hazelnut.
For this recipe, we basically make a nut milk with less liquid. And, instead of water, we use some pre-brewed chai tea. This gives the creamer some natural sweetness and spice. We also add a little coconut oil to help emulsify the mixture.
Ingredients
1 cup raw almonds, soaked overnight, and then rinsed and drained
2 cups water (for brewing tea)
3 tablespoons chai tea blend — I prefer decaf blends
2 tablespoons liquid coconut oil
1 teaspoon vanilla extract
a pinch of sea salt
OPTIONAL: 1 tablespoon pure maple syrup
Directions
Step 1

Place the almonds in a clean mason jar or other container with an airtight lid. Cover with 2 cups of water. Pop on the lid, and let sit on the kitchen counter overnight.

Step 2

Also the night before, brew a tea concentrate. Boil the 2 cups of water, then steep the chai tea blend according to instructions (usually 3-5 minutes). Then, let the tea cool, and refrigerate until you're ready to make the coffee creamer.

Step 3

Drain and rinse the almonds. Add the nuts to a high speed blender along with the tea concentrate. Blend until the nuts are fully blended, and a white, milk-like mixture forms.

Step 4

Place a nut milk bag inside a bowl and then pour the almond mixture into the bag. With super-clean hands, lift the bag and wring it out, letting the milk drip into the bowl. Discard the nut pulp left behind in the bag, or use it for a raw cookie or energy bite recipe.

Step 5

Pour the almond cream back into the blender, and add the vanilla, sea salt, and maple syrup, if using. Place the lid on the blender, and remove the center. With the blender on high, stream in the coconut oil. Blend for a minute or so.

Step 6

Pour the creamer into a clean mason jar, and enjoy. Keep it in the fridge, covered with a lid, for up to a week. Be sure to shake well before using, as the cream may have separated a bit.
Notes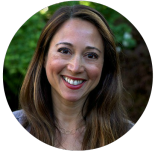 If you make the recipe, tag me over on Instagram. I'd love to see your kitchen creations!