Recipes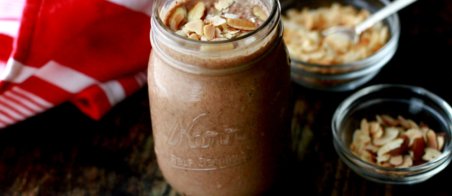 Almond Joy Smoothie Recipe | dairy free, plant based, GF
Clients often ask me about sweet treats — as in, what kind of cookies or ice cream would be the healthiest?
Well, that's a tough one. There are all sorts of delicious plant-based, dairy-free, and gluten-free treats out there, but I wouldn't exactly call them healthy. In fact, most of the time, these "healthy" treats are just as processed as their unhealthy counterparts. And they're often really high in sugar.
However, here's some good news: you can absolutely enjoy some sweet treats that aren't made with refined sugar, and are just as satisfying.
One of my favorite ways to enjoy a sweet treat is to blend up a chocolate smoothie. This goes over especially well as an afternoon (or after school) snack.
This Almond Joy Smoothie is creamy and chocolatey, and full of coconut flavor. Just like its Halloween candy cousin, but so much better for you.
Ingredients
1 cup coconut water (I like the Harmless Harvest brand)
1 cup light coconut milk (the culinary kind, in a can)
2 tablespoons unsweetened almond butter
1 teaspoon coconut butter (made from coconut flesh; not coconut oil)
1/4 cup unsweetened shredded coconut
2 tablespoons unsweetened cacao powder
2 medjool dates *** be sure to remove the pits!
1 tablespoon cacao nibs
1 teaspoon vanilla extract
2 frozen bananas (in chunks)
For garnish: 1 tablespoon sliced almonds, toasted
OPTIONAL: a scoop of your favorite protein powder
OPTIONAL: a few ice cubes
Directions
Step 1

Place ingredients into high speed blender, adding ice last.

Step 2

Process until creamy and smooth. Pour into a glass and top with toasted almonds.

Serve immediately or store some in fridge for later. Salud!
Notes
Remember to tag me on Instagram if you try the recipe.