Recipes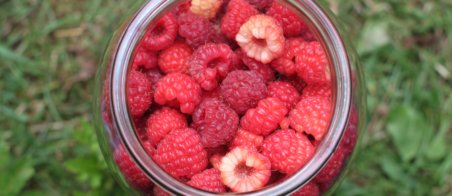 Anti-Aging Raspberry Super Smoothie
As we head into sunnier weather, I thought it'd be fun to make a blend that's fruity and delicious, as well as being great for your skin.
For even more skin support, you could add your favorite collagen boosting powder. I like using a plant derived blend instead of the kind that's made with the connective tissue from beef or fish. The plant based brands often include the functional mushroom tremella — or snow mushroom — which is known as the "beauty mushroom" for its anti-aging properties.
Another fun add-in you might try is beet root powder — or a few frozen beet chunks. Beet is actually a very heart healthy food and is associated with improved blood flow and blood pressure. Also adds beautiful color to our smoothie.
And last but not least, our frozen raspberries. All of the berries — strawberries, blueberries and raspberries — are high in vitamin C, which is an important nutrient for skin health and collagen production. 

Ingredients
1 cup filtered water
1 cup lite coconut milk, unsweetened
1 ½ cups raspberries, frozen
¼ cup avocado chunks, frozen or fresh
2 tablespoons hemp seed
1 tablespoon lime juice (about half a lime)
1 tablespoon plant collagen blend (optional)
1 tablespoon ground flax seeds
1 teaspoon vanilla extract
1 Medjool date (optional)
Directions
Step 1

Place ingredients into blender, adding frozen fruit and ice last.

Blend until creamy and smooth.

Step 2

Add water a quarter-cup at a time if you want a thinner consistency. Serve immediately or store some in fridge for later. Salud!