Recipes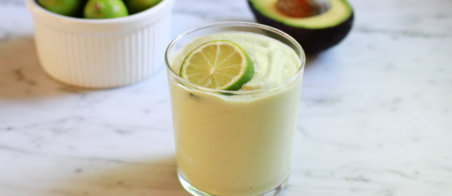 Avocado Matcha Smoothie
What do you do when all of your avocados ripen at the same time? Guacamole for sure, but don't forget about smoothies!
Avocados are full of healthy fat — so they help us absorb fat soluble nutrients. In addition, they're good for prostate health.
Now let's talk about matcha — it's a powder made from green tea leaves. I absolutely love to incorporate this special green tea powder into my daily routine. If you don't love tea or lattes, this is yet another way you can bring those powerful green tea antioxidants into your diet.
I always like to sneak in some extra veggies along the way, so this smoothie also includes some cauliflower rice. You won't even taste the cauliflower — I promise!
Ingredients
1 large avocado
1 teaspoon freshly grated ginger
1/2 cup cauliflower rice or frozen cauliflower florets
1 cup frozen mango chunks
juice from half a lime
1 teaspoon vanilla
1 cup coconut milk
1/2 cup of water
1 medjool date
1 teaspoon matcha powder
pinch of salt
optional: 1/2 cup of frozen kale
optional: 1 scoop of protein powder
Directions
Step 1

Place ingredients into blender, adding frozen fruit and ice last. Blend until creamy and smooth.

Step 2

Add water a quarter-cup at a time if you want a thinner consistency. Serve immediately or store some in fridge for later. Salud!
Notes
Do you want to eat a more plant based diet — but don't want to go all in?
Get on the waitlist for my new program, Part-Time Vegan — launching summer 2021.