Recipes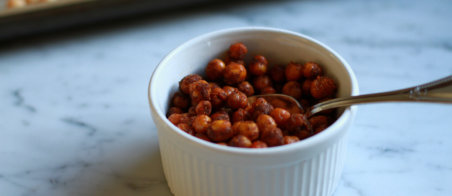 BBQ style chickpeas
I could eat BBQ chips all. day. long.
But (sigh), I wouldn't feel so great afterwards.
So, I had to channel that love for BBQ chips into a fun snack that's actually healthy!
There are a lot of recipes for these BBQ style chickpeas floating around the internet. But, as is my usual, I found that I needed more spice. And yet another excuse to use nutritional yeast. So, that's the resulting recipe you see here.
Side note on chickpeas: all beans and legumes are a really great addition to a heart healthy diet — they're high in fiber, as well as protein. Plus, they're really convenient and inexpensive. So dig in and enjoy this healthy and delicious snack!
Ingredients
1 can of chickpeas (13.5 ounces)
1 tablespoon extra virgin olive oil
1 tablespoon maple syrup
1 tablespoon nutritional yeast
2 teaspoons smoked paprika
½ teaspoon cumin
1 teaspoon chili powder
¼ teaspoon chipotle powder (optional)
2 teaspoons garlic powder
2 teaspoons onion powder
1/2 teaspoon kosher salt
black pepper, to preference
Directions
Step 1

Pre-heat the oven to 400 degrees Fahrenheit. Line a baking sheet with parchment paper. Drain and rinse the chickpeas, and then spread them out onto a clean kitchen towel. Gently dry them and discard any chickpea skins that may come loose.

Step 2

Transfer to the chickpeas to the baking sheet in a single layer. Space them out so they're not touching. Then, bake for 30-40 minutes, or until the bottoms start to brown. Shake the pan occasionally to ensure even roasting.

Step 3

In the meantime, add all of the spices to a small bowl and mix together.

Remove the chickpeas from the oven, and add the oil and maple syrup. Toss to coat evenly. Then, sprinkle the spice mixture over the chickpeas and toss again.

Step 4

Once again, move the chickpeas so they're spaced apart, and then put the baking sheet back into the oven for about 10 more minutes, until the chickpeas darken slightly.

Step 5

Remove from the oven and let cool — they'll become more crisp as they cool off. Enjoy immediately. You can store them in an airtight container and they'll last for about 3 days. But, they won't be crispy -- or as delicious as when they're freshly roasted.
Notes
Do you need more support around healthy meal prep, nutrition tips and recipes?
Click here to join the waitlist for More Veggies Less Meat, my online membership.