Recipes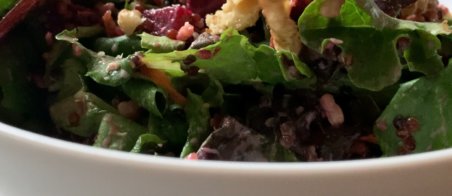 Beet Bliss Salad
This delicious Beet Bliss Salad comes together really quickly if you've done some prep on the weekend. If you want to make part of this recipe ahead, here's the plan:
~ Make a batch of quinoa, let cool and store in the fridge
~ Roast your sweet potato
~ Roast the beets (instructions in the recipe)
~ Bonus: make the salad dressing on the weekend as well
This salad is:
~ High in antioxidants (sweet potato and beets)
~ High in fiber (sweet potato, quinoa, beets, greens)
~ Good source of healthy fat (walnuts)
Serves 2 as a main; 4 as a side
Ingredients
2 tablespoons extra virgin olive oil
1/4 cup filtered water
1/4 white miso (I use Westbrae Natural Mellow White Miso)
1 teaspoon maple syrup
1-2 tablespoon of chopped scallion or 1/2 teaspoon garlic powder
1 tablespoon of grated ginger
Juice from one lemon
A drizzle of sesame oil
1 cup uncooked quinoa
1 beet, scrubbed and rinsed
1 sweet potato, scrubbed, rinsed and pricked a few times with a fork
1/4 c. walnuts, dry toasted in a pan for a few minutes
4 medjool dates, sliced into thin strips
A couple of large handfuls of baby lettuce, rinsed and spun
Optional: 1 carrot, julienned or peeled into ribbons (for garnish)
Directions
Step 1

First, make the dressing:

Add the olive oil, water, miso, maple syrup, scallion (or garlic powder), ginger, lemon juice and sesame oil to a blender.

Blend until creamy and smooth. Will store in the fridge for about a week. Make it on Sunday, and you'll be set for your weekday lunch salads.

Step 2

Preheat oven to 400 degrees.

Prepare the quinoa according to package directions (I use the rice cooker since it does a nice job of preserving each grain's shape — I use the brown rice setting and water measurement). When done cooking, set aside.

Step 3

When the oven is ready, roast the beet and sweet potato — for the beet, I favor Mark Bittman's method for roasting beets, which involves wrapping wet beets in foil and roasting at 400 degrees for 45-60 minutes (depending on the size of the beets).

For this recipe, I used the same glass casserole to hold the beet and sweet potato during roasting. When you're able to easily pierce the beet with a paring knife, the beet is finished roasting. Once the beet is cool enough to handle, use a paper towel to rub off the skin (this can get a little messy, so do it over the sink).

Step 4

Dice the beets and set aside. Peel and dice the sweet potato as well.

Step 5

To assemble the salad, add a few tablespoons of the dressing to your salad bowl. Then, add the sweet potato, quinoa and beets. Gently toss, being careful not to mash the sweet potato or crush the quinoa grains.

Divide salad into two plates and garnish with walnuts, dates and carrot (if using). Drizzle with a little more dressing as you see fit — it's pretty rich, so a little goes a long way.