Recipes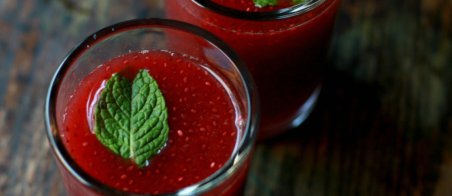 Blackberry Mint Chia Fresca
I'm always on the lookout for a fun mocktail to enjoy on hot summer afternoons or evenings. This booze-free beverage is delicious, as well as packed with antioxidants from the berries. You'll also get a boost of fiber and healthy fats from the chia seed. The chia seeds absorb the water, giving the beverage a gel-like consistency that reminds me of bubble tea — except this recipe involves way less sugar than a traditional bubble tea beverage — and no artificial sweeteners or colors!
Ingredients
1 cup blackberries, plus a few to use as garnish.
1 lime juiced, plus some lime wedges for serving
A couple of sprigs of fresh mint
1 quart of filtered water
1/4 cup of chia seeds
Sweetener: a few drops of stevia (to taste), or 1 tablespoon of maple syrup
Directions
Step 1

PREP AHEAD BY MAKING THE MINT INFUSED WATER: Fill a quart sized mason jar with filtered water. Add a couple sprigs of mint. Cover and refrigerate overnight. In the morning, remove the mint sprigs and discard.

Step 2

Pour 2 cups of the infused water into a blender. Add the blackberries, lime juice, and sweetener of choice. Blend until smooth.

Step 3

Strain the mixture through a fine strainer and discard the blackberry seeds.

Step 4

In a quart-sized mason jar, combine the remaining 2 cups of mint-infused water with the chia seeds. Give everything a good stir with a whisk.

Step 5

Now, add the berry puree to the chia mixture. Whisk until everything is incorporated. Let the mixture set for a few more minutes, and then give everything another whisk. The seeds will start to absorb the water, giving the beverage a "bubble tea" type consistency.

Step 6

Screw on a lid and chill for a couple of hours, then serve. Add a berry, lime wedge, or mint leaves as garnish.

Note: the seeds can settle to the bottom. Before serving, just shake the jar.