Recipes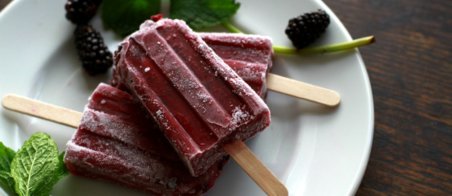 Blackberry Rose Freezer Pops
Makes 10-12 freezer pops, depending on your mold.
Ingredients
Prep ahead: 1/4 cup chia gel (see instructions below). You will need 2 tablespoons of chia seed and 1 cup of of filtered water.
1.5 cups of blackberries (or mixed berries)
1/2 teaspoon ground cardamom
1 teaspoon vanilla extract
1 tablespoon tart cherry concentrate (you can also use honey or maple syrup)
1 can coconut milk (13.5 ounces). I like to use the "light" version for this recipe.
Equipment: freezer pop molds and popsicle sticks
Directions
Step 1

Make the chia gel: add the chia seeds to a mason jar. Pour the water over the seeds and whisk until all of the seeds are moistened. Let the mixture sit for a few minutes, and then whisk again. Once again, let the mixture sit for a few minutes, then whisk again. By now, the chia seeds will have absorbed the water to form a gel. Refrigerate until ready to use. You can use leftover chia gel in smoothies, or add to a bowl of oatmeal for extra fiber.

Step 2

Place the berries into a small pot. Add the cardamom, vanilla extract, and tart cherry concentrate. Heat over low, stirring occasionally, until the berries start to fall apart.

Step 3

Once the berries are starting to fall apart, mash them up a little with a potato masher or fork. Remove from heat.

Step 4

Stir in the coconut milk, rosewater, and chia gel. Stir until everything is incorporated.

Step 5

Transfer the mixture to a pitcher for easy pouring. Fill the molds up, leaving about a quarter-inch of room at the top. Freeze for about an hour.

Step 6

After about an hour, gently insert the popsicle sticks. They should stand on their own in the semi-frozen mixture.

Step 7

Freeze the pops for several hours, or overnight.

Step 8

To remove the freezer pops, insert the mold into lukewarm water for about 30-60 seconds. The water should cover most of the mold, but not the top. Wiggle each freezer pop a little to remove it from the mold. Serve immediately.

Or, if you want so save some for the future, wrap each pop in some wax paper, then layer them into an airtight container or plastic bag.