Recipes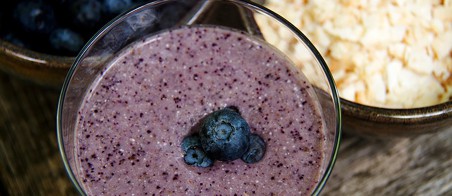 Blueberry Oatmeal Smoothie
This smoothie is a a great alternative for when you're burned out on green smoothies — and it'll still taste great if you want to add spinach.
The blueberries, rolled oats and chia seeds all provide fiber, while the coconut flakes and avocado provide healthy fats and creaminess.
As for nutrients, we're also covered there — blueberries rank among the most nutritious of fruits due to their high antioxidant and phytonutrient content.
To finish, I also add a generous amount of cinnamon (helps stabilize blood sugar levels) and a tiny drizzle of pure maple syrup to give this smoothie that "oatmeal" essence. This also makes the smoothie extremely kid-friendly.
Ingredients
16 ounces of filtered water
2 cups of blueberries, fresh or frozen
1/2 avocado, pit and skin removed
1/4 cup rolled oats (I use Bob's Red Mill Gluten-Free)
2 tablespoons whole chia seed
1/4 cup unsweetened coconut flakes (toast these first for deeper coconut flavor)
1 teaspoon cinnamon
1/2 teaspoon vanilla extract
OPTIONAL: 1/2 a banana, frozen — for additional sweetness
OPTIONAL: 1 teaspoon pure maple syrup (no additives such as high fructose corn syrup)
OPTIONAL: 1 cup of ice
Directions
Step 1

Place ingredients into blender, adding frozen fruit and ice last.

Step 2

Process until creamy and smooth.

Step 3

Add water a quarter-cup at a time if you want a thinner consistency. Serve immediately or store some in fridge for later. Salud!