Recipes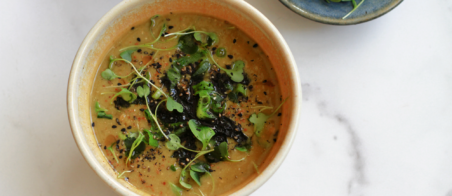 Broccoli Soup with Ginger and Sesame
In this recipe, we're taking a common, every day soup and giving it a tasty makeover — we're making Broccoli Soup with Ginger and Sesame. 
I love the combination of garlic and ginger — they both provide great flavor. And both of these ingredients support digestion and the immune system.
Quick note on the broccoli: I'm using a pound of frozen broccoli. If your freezer is full from stocking up for the pandemic, then now's the time to put those frozen veggies to good use. Use them in this soup!
Ingredients
1 tablespoon avocado oil or extra virgin olive oil
1 large yellow onion, chopped
2 garlic cloves, minced
3 tablespoons freshly grated ginger
2 medium heads of broccoli, chopped (or 1 pound frozen broccoli)
1 quart low sodium vegetable broth
1/4 cup raw cashews
1 tablespoon white miso paste
Juice from half a lemon
sea salt freshly ground pepper to taste
GARNISH: chopped scallions, micro-greens, chili flakes, sesame seeds, nori slices
Directions
Step 1

Heat oil in a pot over medium high heat. Add the chopped onion and sauté until softened and translucent — about 5-10 minutes.

Step 2

Add the garlic and ginger. Stir, continuing to sauté for another minute. Add the chopped broccoli and continue cooking until the vegetables start to soften, about 5-10 minutes.

Add the vegetable broth and cashews. Give everything a stir, and bring the mixture up to a boil. Then reduce heat to a simmer and cook until the broccoli is soft. Remove from heat.

Step 3

In a small bowl, combine the miso paste and lemon juice with a quarter cup of soup and whisk until smooth. Pour the miso mixture back into the soup.

Step 4

After the soup has cooled for about 5-10 minutes, use an immersion blender to blend smooth. Or, working in batches, transfer soup to a blender and puree until smooth.

Step 5

Return the blended soup to the pot and season with salt and pepper to taste. Gently reheat if needed. Add garnishes of choice and serve.
Notes
Do you need more support around healthy meal prep, nutrition tips and recipes?
Click here to join the waitlist for More Veggies Less Meat, my online membership.