Recipes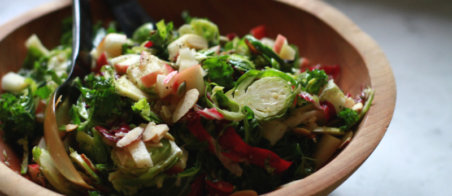 Brussels Sprout and Apple Salad
This Brussels Sprout and Apple Salad is a festive harvest salad that's full of seasonal ingredients and powerful nutrients.
To start, we make a simple lemon maple vinaigrette to mellow out the bitterness of the winter vegetables. Please note: I almost always use the lemon zest — I love that intense lemon flavor.
This recipe also calls for a little tahini — made from sesame seeds — for some creaminess. Tahini, by the way, can be a good source of calcium.
Now, let's talk about the Brussels sprouts. As you may know, they're naturally low in calories and high in fiber. But they're also a great source of vitamin C, as well as vitamin K which we need for healthy bones and blood clotting.
And kale? Well we all know kale is the best. A nutritional rockstar. And radicchio's no slouch either. It's high in vitamin K as well.
To finish, we add sliced almonds and pumpkin seeds for flavor and some healthy fat, as well as hemp seeds for protein. And some dried cranberries for sweetness.
Ingredients
Zest from 1 lemon
¼ cup lemon juice
2 tablespoons olive oil
1 tablespoon maple syrup
1 tablespoon tahini
½ clove garlic, grated
1 lb. Brussels sprouts, trimmed and thinly sliced
1 cup curly kale, chopped
1 cup radicchio, sliced into ribbons
1 large honeycrisp apple, cut into matchsticks
¼ cup sliced almonds
¼ cup pumpkin seeds
1/4 cup hemp hearts
1/2 cup naturally sweetened dried cranberries
Directions
Step 1

First, prep the almonds and pumpkin seeds: place them onto a dry skillet. Heat over medium heat for 4 to 5 minutes, until golden and fragrant, stirring frequently. Watch carefully -- these can burn quickly. Set aside to cool.

Step 2

Next, prepare the brussels sprouts. Shave the brussels sprouts either using a food processor, mandolin slicer, or sharp knife. If using a food processor, you'll need the slicing disc attachment.

Then, add the brussels sprouts, kale, and radicchio to a large bowl, as well as the toasted almonds and pumpkin seeds, apple, hemp seed, and cranberries.

Step 3

Prepare the dressing: add the lemon zest, lemon juice, olive oil, maple syrup, tahini, and garlic to a small bowl. Whisk until incorporated. Add salt and pepper to taste.

Step 4

Pour the dressing over the ingredients in the bowl. With clean hands, massage the mixture until the greens are evenly coated. Taste, add salt and pepper as needed, and serve.
Notes