Recipes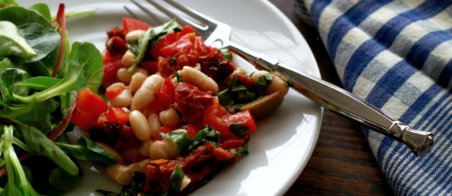 Cannelini Bean Salad with Tomatoes, Olives and Basil
In his fascinating book, How Not to Die, Dr. Michael Greger goes into great detail about how beneficial daily legume consumption can be.
Lentils, chickpeas and other legumes — collectively known as pulses — have been shown to reduce cholesterol, reduce risk of stroke, reduce colon cancer risk, stabilize blood sugar levels, feed "good" gut bacteria, reduce bone loss, and support greater bone mineral density.
Plus, they taste amazing in salads, bowls, and burritos!
Here's one of my favorite easy recipes for a bean salad you can make on Sunday, and then enjoy throughout the week. It's just as easy as making something like tuna or egg salad… and much healthier for you.
Ingredients
1 can cannellini beans, drained and rinsed
1-2 cloves of garlic, pressed or minced
10 sun dried tomatoes, reconstituted in water and sliced thinly (I like dried vs. the kind stored in oil)
1 red bell pepper, cored, seeded and chopped
¼ cup pitted Kalamata olives (I like the spicy kind)
1 cup cherry or grape tomatoes, halved
1 cup cooked brown rice
2 tablespoons lemon juice
1 tablespoon extra virgin olive oil
¼ cup fresh basil, sliced into ribbons
¼ cup pine nuts
sea salt and ground pepper, to taste
OPTIONAL — red pepper flakes
Directions
Step 1

Place the beans, garlic, sun dried tomatoes, bell pepper, olives, fresh tomatoes, and brown rice into a mixing bowl.

Step 2

Drizzle the mixture with the lemon juice and olive oil.

Step 3

Toss the mixture gently until the lemon juice and olive oil are incorporated.

Step 4

Fold in the basil. Season with sea salt and ground pepper. You could also add red pepper flake if desired.

Step 5

Garnish with pine nuts and serve. Enjoy on top of toast, with salad greens, or in lettuce wraps. Or on its own as a little snack!

Step 6

Store in the refrigerator in an airtight container for 2-3 days.
Notes
Download the Freebie
I created a special freebie to help you incorporate beans into your daily diet — "Eat Your Beans: 3 Delicious and Protein Packed Recipes to Try."
Inside this free and downloadable PDF, you'll find:
Recipe #1 — Curried Coconut Lentil Soup, one of my most popular recipes
Recipe #2 — Spicy Black Beans, perfect for bowls, burritos, and soups
Recipe #3 — Cannelini Bean Salad with Tomatoes, Olives and Basil. Delicious for picnics and parties!
All of the recipes are plant-based, gluten-free, and dairy-free. I hope you find them as delicious as I do.