Recipes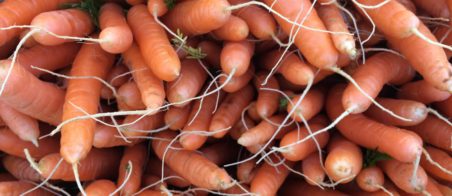 Carrot Ginger Soup
This beautiful soup is chock full of beta-carotene, which our bodies convert into Vitamin A. Vitamin A is important for eye health, and it also helps prevent wrinkling of the skin. Ginger provides more than just a fun little kick of flavor — it's a powerful anti-inflammatory and antioxidant cancer fighter.
Ingredients
2 tablespoons coconut or extra virgin olive oil
1/2 onion, chopped
1 heaping teaspoon of fresh, grated ginger (or ¼ teaspoon of powdered ginger)
2 cloves garlic, minced
½ teaspoon cumin
½ teaspoon curry powder
½ teaspoon ground turmeric
pinch cayenne, optional
3 cups organic carrots, peeled and chopped
1 tablespoon apple cider vinegar
4 cups low sodium, gluten-free broth of choice
Sea salt and pepper to taste
Chopped Italian parsley or chive for garnish
Lemon wedges on the side
Directions
Step 1

Set a soup pot on medium heat and warm the oil. Add the onions; sauté and stir occasionally until they start to brown — about 15 minutes.

Step 2

Add the grated ginger, garlic, cumin, curry powder, turmeric, and cayenne. Cook for about a minute, and stir to make sure the onions are coated with the spices.

Step 3

Add the carrots, vinegar and broth, and stir. Bring to a boil. Then reduce heat to simmer, cover, and simmer for 20-30 minutes, or until the carrots are tender.

Step 4

Working in batches, pour the soup into a blender. Remove the center of the lid to let steam escape, and cover the whole lid with a towel (hot liquid tends to erupt) — blend on high. Puree until smooth. Add a little extra water if needed to reach desired consistency.

Step 5

Return the soup to the pot and warm gently until hot.

Step 6

Season with sea salt and pepper to taste.

Step 7

Garnish with chopped parsley and serve with lemon wedges on the side. A drizzle of nice olive oil or pumpkin oil would be good here too. Serve with a side salad and protein of choice.