Recipes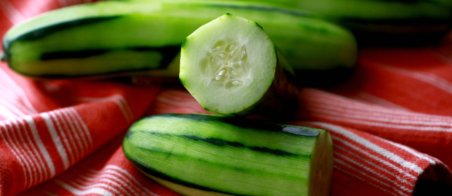 Chilled Cucumber Soup with Padron Pepper and Mint
This soup is perfect for hot summer nights when you don't feel like cooking. It comes together very quickly in the blender, and has plenty of flavor with the combination of cool cucumber, spicy padron pepper, creamy plant-based yogurt, and fresh mint.
Ingredients
4 cucumbers, peeled, seeded and chopped (reserve a couple tablespoons for garnish)
1 small or 1/2 large clove garlic
1 small jalapeno, seeded and chopped, or a few padron peppers, broiled until soft and slightly charred
4 scallions, white and green parts, cut into 1-inch pieces
1/2 cup plant based yogurt (such as unsweetened cashew milk yogurt)
2 tablespoons fresh lemon juice, plus more to taste
1/4 cup water
1 avocado, peeled and chopped
3/4 cup fresh mint leaves, loosely packed. Reserve a few leaves for garnish.
Salt and freshly ground black pepper
Garnish: edible flowers, chopped cucumber, sprig of mint
Directions
Step 1

First, prepare the padron peppers. Place on a baking sheet lined with parchment paper, and broil for a few minutes until slightly charred. Set aside.

Step 2

In a blender, combine the chopped cucumbers, garlic, peppers, scallions, plant-based yogurt, lemon juice, and water. Blend until smooth. Then, add the avocado, and blend briefly until smooth (be sure not to overblend).

Step 3

Blend in the mint, then season with salt and pepper to taste.

Step 4

Refrigerate until well chilled, and serve, garnishing with chopped cucumber and mint.