Recipes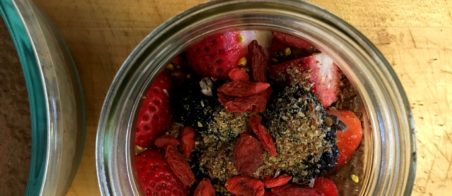 Chocolate Chia Seed Pudding
Let's say you want to eat healthy, but green smoothies aren't your thing.
Or, you've been drinking green smoothies every day for two years now and you simply CAN'T. Anymore.
Great news!
You can forego the green smoothies and still eat healthy. Yes, it's true!
Especially when you're enjoying a nutrient-dense chia seed pudding for breakfast. Chia seeds, you see, are an excellent source of fiber, as well as omega-3 fatty acids and protein. A superfood with ancient origins, chia seed was valued by the Aztecs, who used it as an endurance food for battle, as well as running long distances.
On the fiber front, chia includes nearly 11 grams of fiber per ounce. Once consumed, chia forms a gel within the body, which helps support healthy digestive processes and can fuel the "good" bacteria found in the gut.
Chia seed pudding is an excellent prep-ahead breakfast — you can mix it up the night before, spoon it into a mason jar, then pop it into the fridge to set up overnight.
In the morning, simply add some of your favorite fruit and/or nuts on top, and you have an excellent breakfast-on-the-go.
For example, when I made the pudding on More Good Day Oregon, I garnished it with flax seed, bee pollen, goji berries, and fresh berries.
The possibilities are endless. Feel free to use whatever berries, nuts, seeds or dried fruit you have on hand.
Ingredients
1 cup unsweetened almond milk
1/2 cup coconut milk
1-2 TB maple syrup
1 teaspoon vanilla extract
1/3 cup chia seeds
2 TB cacao powder
1/4 teaspoon cinnamon
small pinch of sea salt
garnish of choice: ideas include pomegranate seeds, fresh strawberries, cacao nibs, flax seed, bee pollen, etc.
Directions
Step 1

Add the chia seeds to a mixing bowl.

Step 2

In a separate bowl or measuring cup, whisk the coconut milk, nut milk, maple syrup and salt. You can also use a blender for this step.

Step 3

Add the coconut milk mixture to the bowl of chia seeds, and whisk.

Step 4

Let the mixture stand for about five minutes, then whisk again, breaking up any clumps that have formed.

Step 5

Repeat this step, letting the mixture stand once again for about 5-10 minutes, then whisk.

Step 6

Cover the mixture, and store in the refrigerator for at least an hour (or overnight).

Step 7

As the pudding sets up in the refrigerator, the chia will absorb the liquid, transforming the mixture into a light, airy pudding.

Step 8

To serve, spoon chia pudding into a bowl or parfait glass. Top with berries, coconut flakes and other toppings of choice. Add a sprinkle of cinnamon, if desired.