Recipes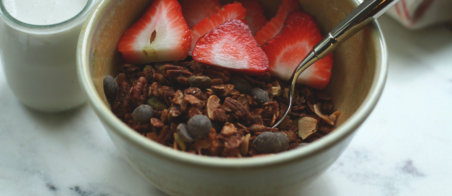 Chocolate Pecan Granola with Tahini
Store-bought granolas can be packed with sugar, and the flavors can get kind of boring. Also, the granolas that sound more interesting — or are gluten free — are often pretty expensive.
That's why we're waking up our taste buds with a protein-rich, Chocolate Pecan Granola with Tahini that offers tons of flavor, for a fraction of the price.
Side note on the tahini: you can of course use any brand from your local grocery store. However, if you find yourself using tahini often (salad dressings, sauces, hummus, etc.), then I highly recommend checking out Seed and Mill. Their tahini is the best I've found out there — creamy and smooth, and it's even delicious right off the spoon! It's not bitter like many of the other tahini brands. I order several jars at a time so I always have it on hand.
I'm not affiliated with Seed and Mill in any way — just a big fan! Also, if you're looking for a sweet treat, their halva is insanely delicious. Their pistachio halva is my happy place.
Ingredients
2 1/2 cups rolled oats
1 cup pecan pieces
1/4 cup pumpkin seeds
2 tablespoons chia seeds
½ teaspoon cinnamon
a big pinch of sea salt
1/3 cup melted coconut oil
¼ cup pure maple syrup (use 1/3 cup for more sweetness)
1/3 cup unsweetened cacao powder
¼ cup tahini
1 teaspoon vanilla
1 cup unsweetened coconut flakes
OPTIONAL: 1/2 cup vegan chocolate chips (ie., Enjoy Life brand)
Directions
Step 1

Heat oven to 350 F. Line a large baking sheet with parchment paper.

Now, prepare the dry ingredients: add oats, pecans, pumpkin seeds, chia seeds, cinnamon, and sea salt to a large mixing bowl. Stir until evenly combined.

Step 2

In a smaller bowl, combine the melted coconut oil, maple syrup, vanilla and tahini. Whisk until smooth. Then, add the cacao powder and whisk until the mixture is smooth.

Step 3

Pour the coconut oil mixture into the dry ingredients, and stir until evenly combined.

Step 4

Spread the granola out evenly on the prepared baking sheet. Bake for 15 minutes. Then remove the pan from the oven, give the mixture a good stir, then sprinkle the coconut on top. Bake for 5 more minutes, until the granola is toasted, and the coconut is golden.

Step 5

Remove baking sheet from the oven and transfer to a wire baking rack. Let cool until the granola reaches room temperature. Then stir in the chocolate chips, if using.

Serve immediately, or store in an airtight container at room temperature for 2-3 weeks. Believe me, though, it won't sit around that long. People love it!
Notes
Bonus! Get your free Healthy Meal Planning and Prep Guide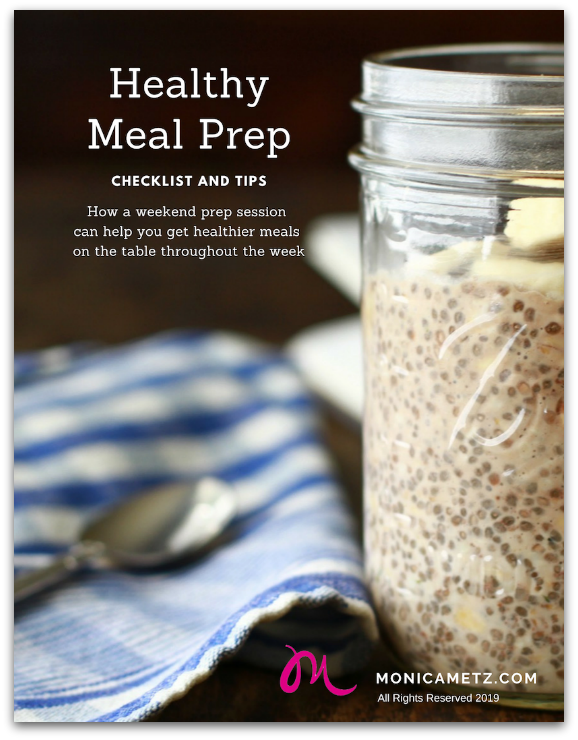 Life is busy, and weekends can be super busy, whether you're doing errands, having fun, or dedicating your entire weekend to youth sports LOL.
However, if you make the time for meal prep, you won't regret it. Especially when you realize it takes you only 15 minutes to make dinner during the week, instead of the usual 30-60.
Here's even more good news: I created a new freebie for you! It's my downloadable and totally printable Healthy Meal Prep Guide.
Inside, you'll find more details about my approach, as well as:
Shopping and meal prep strategies.
A blank meal planning template.
Sample meal plans.
Downloadable and printable shopping list.
Weekend prep session checklist.
Ready to download the guide?
Great!
Just click here to get your Healthy Meal Prep Guide.