Recipes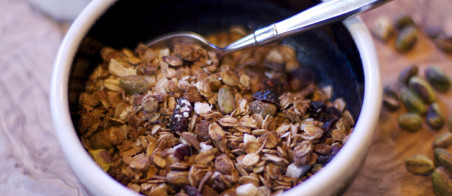 Cinnamon Coconut Granola
My coconut-cinnamon granola has far less sugar and fat than grocery store brands, and there are no weird industrial ingredients or additives.
Plus, it's delicious and transcends the cold cereal category altogether — it's just like that fancy $8 small-batch granola you see in artisan bakeries, but at a fraction of the price. And, you get to trick it out just the way you like it.
This recipe makes enough for a quart sized jar of granola, plus enough leftovers for a little snack! It should stay fresh in the jar for several days, but believe me, it'll be gone way before then.
Makes 3-4 cups, depending on your add-ins
Ingredients
3 cups of gluten free, old-fashioned oats (I use Bob's Red Mill — easy to find)
1/3 cup of melted coconut oil (don't microwave it; just set the jar in a bowl of hot water to melt the oil); can substitute with grapeseed oil
1/4 cup pure maple syrup
1/4 cup honey
2 teaspoons cinnamon
1/4 teaspoon ground ginger
1/2 teaspoon pumpkin pie spice
1 teaspoon vanilla extract
1/2 cup of unsweetened coconut flakes, toasted in the oven until golden (watch carefully!)
1/4 cup of candied ginger bits or chopped dried fruit of choice (apricots, dates, etc.)
1/2 cup hemp seeds
OPTIONAL ADD IN: 1/2 – 1 cup of additional unsalted nuts and/or seeds (i.e. chia, pumpkin, etc.)
Directions
Step 1

Preheat oven to 350 degrees and line two baking sheets with parchment paper or silpats.

Step 2

Add oats to a large mixing bowl. Pour coconut oil into a measuring cup and swirl it around a little, then add to the bowl. Measure maple syrup and honey into the same measuring cup and add to the bowl (the oil will help get the sticky sweeteners out of the cup and into the bowl).

Step 3

Add the vanilla extract, cinnamon, ground ginger and pumpkin pie spice, then mix well. Make sure the oil and sweeteners are incorporated consistently throughout the oats.

Step 4

Divide the mixture between the two baking sheets and use a spatula to create a single layer of oats on each pan. Bake until golden — watch carefully, the granola can burn easily. This should take about 15-20 minutes.

Step 5

When the oats are good and toasted, remove the pans from the oven, and let the granola cool. Transfer to a clean mixing bowl and toss gently with the toasted coconut, candied ginger, hemp seeds, nuts, seeds and any other desired add-ins.

Step 6

Serve with almond milk.