Recipes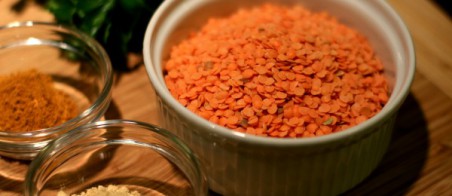 Coconut Curried Lentil Soup Recipe
This Coconut Curried Lentil Soup recipe is hands-down one of my most popular. Seriously. People love this soup soooo much. Not only is it delicious, but it's also very healthy — lentils and other pulses are high in fiber and protein, and they're naturally low in calories and fat. They're also good sources of heart-healthy folate and magnesium, and are easy to cook — no soaking required! The soup also uses turmeric, a powerful natural anti-inflammatory that has been shown to improve joint pain and arthritis symptoms, as well as provide protection against some kinds of cancer and Alzheimer's disease.
The great thing about this soup is that you can trick it out with various toppings: toasted coconut, caramelized onions, chopped scallions and cilantro, sliced avocado. But you don't even really need toppings — it's very flavorful and satisfying on its own. Inspired by "A Quiet Soup" on Orangette.com.
Ingredients
2 tablespoons extra virgin olive oil (organic when possible), plus additional oil for drizzling
1 large yellow onion, chopped
4 garlic cloves, minced or pressed
1 tablespoon double-concentrated tomato paste (comes in a tube like toothpaste)
1 teaspoon curry powder
½ teaspoon powdered ginger
1 teaspoon ground cumin
1 teaspoon turmeric — feel free to add more anti-inflammatory benefits
¼ teaspoon sea salt, or more to taste
freshly ground pepper
a pinch of cayenne or Aleppo pepper (for mild heat)
1 cup unsweetened pumpkin puree
1 quart low-sodium vegetable broth
1 can coconut milk (about 15 ounces), lowfat
1 ¼ cup red lentils, picked through
1 large carrot, peeled and diced
Juice of ½ lemon, or more to taste
¼ cup chopped fresh cilantro
Directions
Step 1

Warm the olive oil in a large pot over medium-high heat. Add the onions and garlic and cook until golden and translucent, about 4 minutes.

Step 2

Stir in the tomato paste, curry powder, turmeric, ginger, salt, pepper, and cayenne. Keep stirring for about two minutes, so the onions are coated with the spices, and the spices don't burn.

Step 3

Add the broth, pumpkin puree, coconut milk, the lentils, and the carrots. Bring to a simmer, then partially cover the pot and reduce the heat to maintain a gentle simmer. Continue to cook until the lentils are soft, about 20-30 minutes.

Step 4

Taste, and add more salt if necessary. Using an immersion or regular blender, puree the soup to desired consistency. I like to blend the entire thing for a smooth consistency, but if you're pressed for time you can leave it as is.

Add a bit of water to thin, if desired. Reheat gently, then stir in the lemon juice and cilantro. To garnish, drizzle with a bit of good olive oil and a pinch of cayenne (or Aleppo).

Step 5

Note: for a heartier soup, stir in a cup or so of leftover rice after blending. For added nutrition, add a couple handfuls of spinach or shredded kale on top of the soup towards the end of the reheating process. Cover and let the greens steam for a few minutes, until desired doneness. Either stir the greens in with the soup or serve alongside the soup in the same bowl.
Notes
Need some more ideas and recipes?
Just follow the link below, and you'll get instant access to 3 of my most popular kale recipes:
The Easy-on-the-Green Smoothie (low "green" intensity)
Nacho Cheese Kale Chips (medium intensity)
Massaged Kale Salad (high — for kale lovers)
The recipes offer a variety of kale "intensity" — a tasty smoothie for beginners, kale chips for intermediate veggie eaters, and a kale salad for the advanced veggie eaters. Enjoy!