Recipes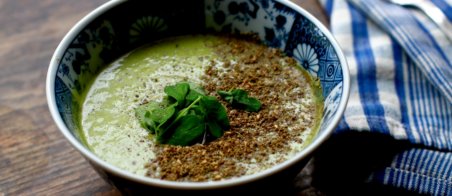 Creamy Asparagus Soup with Lemon and Za'atar
Asparagus is an amazing vegetable — it's high in Vitamin K, which is important for adequate blood clotting. Vitamin K also works with Vitamin D to help get calcium into our bones.
Asparagus is also a good source of inulin, a special indigestible compound that travels to the intestinal tract and "feeds" beneficial bacteria (the good kind) in our gut. In other words, asparagus makes a great pre-biotic.
Ingredients
1 tablespoon avocado oil (or feel free to sauté the vegetables in a bit of water for an oil-free soup)
1 small onion, peeled and chopped
3 cloves garlic, minced
1 bunch of asparagus; trim the tough root end and cut into ½ inch pieces
1 small head of cauliflower, separated into florets
¼ teaspoon cayenne pepper
4 cups reduced sodium vegetable stock
2 cups filtered water
1/4 cup raw cashews
1 tablespoon tahini
A couple handfuls of baby spinach
1 tablespoon fresh lemon juice
Sea salt and ground pepper to taste
To serve: a generous dusting of za'atar, as well as some chopped parsley or microgreens. You can usually find za'atar, a Middle Eastern seasoning blend, in the spices section of a well-stocked natural grocery store.
Directions
Step 1

In a medium soup pot, heat the oil over medium high heat. Add the onions, and cook until onions are soft and translucent, stirring occasionally. Then, add the garlic; stir and cook for about 1 minute.

Step 2

Add the cauliflower, asparagus, cashews, tahini, and cayenne pepper. Cook 4-5 minutes, stirring frequently.

Step 3

Pour in the broth and water, and bring the soup to a boil. Reduce the heat to low and simmer on low until the cauliflower and asparagus are tender, about 10 minutes.

Step 4

Stir in the baby spinach, remove from heat, and let cool for a few minutes.

Then, working in batches, pour the soup into a blender. Remove the hole that's in the center of the blender lid so steam can escape during the blending process. Cover the lid with a towel (hot liquid tends to erupt), and blend on high.

Step 5

Pour the soup back into the pot, stir in the lemon juice, and warm to desired temperature.

Season with salt and pepper to taste.

Garnish with a generous sprinkling of za'atar seasoning, and some fresh herbs if desired. Serve alongside some nice salad greens and your favorite dressing.
Notes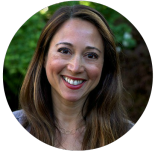 Remember to tag me on Instagram if you try the recipe.