Recipes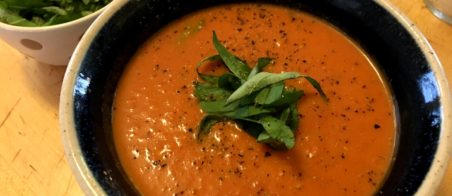 Creamy Tomato Soup
I adore creamy tomato soup, especially when it's dairy free! This recipe is a makeover of the Pioneer Woman's Sherried Tomato Soup recipe, which involves a lot of butter and cream.
This may be the guilt-free version, but it's just as tasty and satisfying.
For the cream part of things, you'll be using a simple cashew "cream." Click here for the Cashew Cream recipe. 
Ingredients
2 tablespoons extra-virgin olive oil
1 medium onion, chopped
2 cloves garlic, thinly sliced
A shake of red chili flakes, to preference
45 ounces (3 cans) roasted, diced or crushed tomatoes (low sodium preferable)
1 tablespoon double concentrated tomato paste
2 cups low-sodium vegetable broth (and additional broth if you prefer a thinner consistency)
½ - 1 cup cashew cream. You can also use ½ cup full fat coconut milk
½ cup good quality sherry
10 large fresh basil leaves, chopped, plus more for garnish
1/4 teaspoon salt
Chopped Italian parsley for garnish
1 teaspoon Better than Bouillon "No Chicken" base
Directions
Step 1

Set a soup pot on medium heat and warm the oil. Add the onions; sauté and stir occasionally until they start to brown — about 15 minutes.

Step 2

Add the garlic, red pepper flakes and salt and stir for about a minute.

Step 3

Add the tomatoes, tomato paste, bouillon, and broth, and give the soup a stir. Bring to a boil, then reduce heat and simmer for 10 minutes. Turn off the heat and let the soup cool for a few minutes.

Step 4

Working in batches, pour the soup into a blender. Remove the hole that's in the center of the blender lid so steam can escape during
the blending process. Cover the lid with a towel (hot liquid tends to erupt), and blend on high.

You could also use a stick/immersion blender instead of a regular blender.

Step 5

Return the soup to the pot. Add the sherry and cashew cream (or coconut milk) and warm gently until hot (don't boil).

Step 6

Garnish with chopped basil and parsley, and serve.