Recipes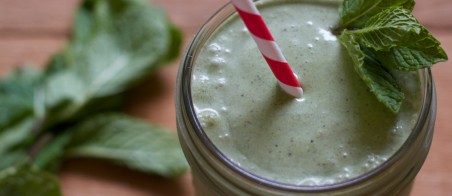 Creamy Tropical Mint Smoothie
Green smoothies can get boring real quick.
If you're in a rut, adding fresh herbs can really transform your blend, and make you fall in love with green smoothies all over again. Mint is one of my favorites, especially since it grows year-round here in the Pacific Northwest.
Ingredients
1 cup almond milk (or coconut milk)
1 cup filtered water
4 tablespoons hemp seed (for protein)
1 tablespoon whole chia seed (for fiber) — you don't have to grind first
2 tablespoons unsweetened coconut (toast it lightly for even more coconutty flavor)
1 teaspoon vanilla extract
1 large handful of romaine lettuce (about 2-3 cups)
about 5-10 fresh mint leaves, removed from stem
2 cups frozen pineapple
optional — 1-2 medjool dates (remove pits!), softened in warm water for a few minutes
optional — 1 cup ice
Directions
Step 1

Add all ingredients to the blender.

Step 2

Process until creamy and smooth. Add water a quarter-cup at a time if you want a thinner consistency. Serve immediately, or store half in the fridge for an energizing afternoon snack.
Notes
Need some more ideas and recipes?
Just follow the link below, and you'll get instant access to 3 of my most popular kale recipes:
The Easy-on-the-Green Smoothie (low "green" intensity)
Nacho Cheese Kale Chips (medium intensity)
Massaged Kale Salad (high — for kale lovers)
The recipes offer a variety of kale "intensity" — a tasty smoothie for beginners, kale chips for intermediate veggie eaters, and a kale salad for the advanced veggie eaters. Enjoy!