Recipes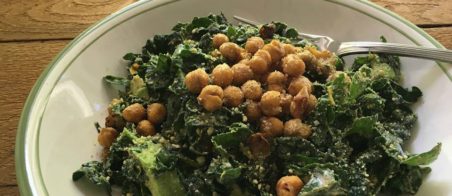 Crispy Chickpea Croutons
These crispy "croutons" are perfect for spicing up a salad, and giving it some satisfying crunch. They also come in handy when you're trying to avoid gluten or refined flour products such as regular croutons. I've added some cumin to give the chickpeas some falafel-inspired flair.
Plus here's a fun fact: garbanzo beans, lentils, and other legumes — collectively known as pulses — have been shown to reduce cholesterol, reduce risk of stroke, reduce colon cancer risk, stabilize blood sugar levels, feed "good" gut bacteria, reduce bone loss, and support greater bone mineral density.
So enjoy those pulses often — ideally daily!
Ingredients
1 tablespoon extra virgin olive oil
2 cans of organic chickpeas (garbanzo beans)
1 teaspoon ground cumin
1 teaspoon fine sea salt
½ teaspoon garlic powder
a few shakes of lemon pepper blend
a dash of smoked paprika or cayenne
Directions
Step 1

Preheat oven to 400°F. Drain and rinse chickpeas. Put them in a kitchen towel and gently rub dry (some of the skins might fall off).

Step 2

Place the chickpeas into a small mixing bowl and add the olive oil and spices. Stir gently with a rubber spatula to incorporate ingredients.

Step 3

Place the beans onto a rimmed baking sheet covered with parchment paper.

Step 4

Roast for 20 minutes at 400°F, then gently roll the chickpeas around in the baking sheet. Roast for another 10 to 20 minutes, until lightly golden. Roast until the beans reach desired crispiness.

Let cool and use immediately. You could also store them in an airtight container in the refrigerator for 3-4 days.