Recipes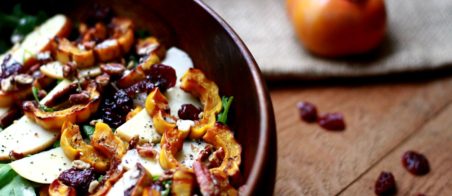 Delicata Squash and Apple Salad
You know when you're going to a friend's house for dinner, and you volunteer to bring something?
I almost always offer to bring a salad, and this recipe is one of my go-to healthy potluck dishes.
I love taking healthy food to party. For one thing, I know that there will be at least one healthy thing for me to enjoy at the party. Secondly, I find that others appreciate having a healthy option, as well.
This salad goes well with my Maple Tahini Dressing. 
Serves 2 as a main, or 4 sides.
Ingredients
A batch of my Maple Tahini Dressing — see recipe link below
2-4 delicata squash (plan for 1/2 a squash per person, or more if you want a heartier salad)
1-2 tablespoons of avocado oil (or another high-heat oil for roasting)
About 5 ounces of baby arugula (i.e., a small box)
1 apple, cored and sliced thinly (keep the skin on)
1/4 cup sour cherries, dried
1 cup toasted pecans
an extra drizzle of balsamic vinegar
Directions
Step 1

Prepare the Maple Tahini Dressing. See link below for the recipe.

Step 2

For the squash: Preheat the oven to 400°F. To prep the squash, scrub with a vegetable brush under running water. Then, split each squash in half lengthwise. Scoop out the seeds with a spoon or ice cream scoop.

Step 3

Place the flat side of one of the squash down onto a cutting board and slice into ½ -inch rings — the best part about Delicata squash is that you can eat the skin!

Step 4

Put the squash into a medium sized bowl and add the olive oil, salt and pepper. Use clean hands to toss the squash so each piece is coated. Transfer to a baking sheet (use parchment paper or a silpat for easy cleaning), then place in the oven for about 10 minutes.

Step 5

After ten minutes, the squash should be nicely browned. Flip gently with a spatula and continue roasting for another 10-15 minutes. When the squash is done, both sides will be golden brown and creamy inside. Remove from the oven and set aside.

Step 6

For the salad: Place arugula into a large bowl. Pour a small amount of dressing — a tablespoon or so — over the greens and toss with tongs. The greens should be evenly coated, but not soggy. If the greens are still dry, add a little more dressing and toss again until the greens are evenly dressed.

Step 7

To serve: divide the greens evenly onto plates. Divide the squash rings evenly and arrange on top of the greens. Garnish with sliced apple, sour cherries and pecan.

Step 8

For added flavor, drizzle a teaspoon or two of balsamic vinegar over everything. Season with sea salt and pepper to taste, and serve.