Recipes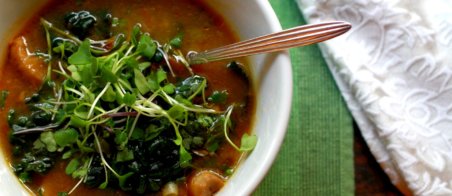 Detoxifying Coconut Miso Soup with Microgreens
This soup comes together really quickly, and it's perfect for a night when you don't want to spend much time in the kitchen.
Make sure you don't boil the soup after adding the miso — that destroys the miso's "good" bacteria and other nutrients. This soup is best enjoyed immediately; it won't freeze well. Feel free to add any vegetable of choice (thinly sliced cauliflower, shredded cabbage, etc.).
Ingredients
2 tablespoons coconut oil
1/4 cup chopped scallions (green and white parts)
1 teaspoon freshly grated ginger — I like to use a microplane for this
a pinch of red pepper flakes (optional)
2 cups sliced mushrooms (cremini, button, shiitake, etc.)
4 cups of low sodium vegetable broth
2 tablespoons of white miso paste (you'll find it in the refrigerated section)
a couple of handfuls of chopped kale (baby spinach works, too)
1 cup of coconut milk
1 tablespoon of coconut aminos or tamari
OPTIONAL: add protein of choice (cubed tofu, edamame, etc.)
For garnish: microgreens, sesame oil, chili paste, tamari, gomashio spice blend
Directions
Step 1

Heat the oil in a medium soup pot over medium heat. Add the scallions and sauté for a couple of minutes.

Step 2

Add the ginger and red pepper flakes. Stir and sauté for an additional minute.

Step 3

Add the mushrooms. Stir and sauté for a minute or so.

Step 4

Stir in the broth, and bring to a simmer. Simmer gently for a few minutes, until mushrooms soften. Reduce heat to low.

Step 5

Now it's time to add the miso — but not directly to the pot just yet. Here's how you can incorporate the miso so it'll blend more readily: spoon the miso into a small bowl or measuring cup. Add a ladle of the hot broth, and whisk the mixture together until incorporated. Then, add this miso-broth mixture to the soup.

Step 6

Still over low heat, add the greens, coconut milk and coconut aminos (or tamari). Add your protein if desired. Give everything a stir, then pop the lid on for a minute or so — just until the greens wilt.

Step 7

To serve, ladle into bowls and garnish with condiments of choice — garlic chili paste, tamari, and sesame oil are my favorites. Add a small handful of microgreens for additional nutrition and visual appeal.