Recipes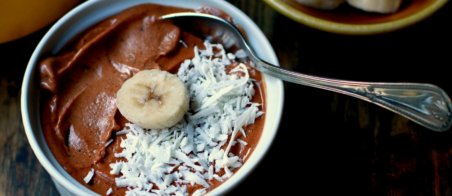 Double Chocolate Banana Nice Cream
Many people have a sensitivity to dairy, and a lot of my clients tell me that ice cream equals an instant tummy ache. So, imagine my delight when I came across "nice cream" — ice cream using frozen bananas as the base.
This recipe is so simple it blows my mind: frozen bananas, cacao powder, and chocolate chips. If needed, you can add a little liquid to get things going in the blender.
If you want to get fancy, you can add some additional flavors such as vanilla or cinnamon, but I usually keep it super simple. You could also add some adaptogenic herbs such as my favorite, ashwagandha powder — but check with your doctor or naturopath before using medicinal herbs.
If you're curious about ashwagandha — also known as Indian ginseng — it's an herb used in Ayurvedic traditional medicine to enhance energy during the daytime, and foster relaxation at night. It's also believed to increase or decrease stress hormones like cortisol depending on the needs of the body.
Ingredients
4 bananas, cut into quarter sized pieces and frozen in a single layer (so they don't stick together)
2 tablespoons cacao powder (unsweetened cocoa powder)
a splash of almond milk or coconut water
1/4 cup of vegan, allergy-free chocolate chips, such as Enjoy Life brand
to garnish: coconut flakes, chopped nuts, blueberries, etc.
Optional: 1 teaspoon vanilla extract
Directions
Step 1

Place the frozen bananas, chocolate chips, and cacao powder into a high speed blender of food processor.

Step 2

Start blending, pausing frequently to scrape down the sides. Alternatively, if your blender came with a tamper tool, you can use that while blending. If necessary, add a splash of nut milk or coconut water to get things going. You don't want to use too much liquid, though, because that could cause the mixture to melt too quickly.

Step 3

Keep tamping and blending until the ingredients are blended into consistency similar to soft-serve ice cream.

Use a rubber spatula to transfer to a bowl, add toppings, and serve. Eat immediately — this yummy concoction melts quickly!
Notes
Check out the video as I make this recipe step-by-step on More Good Day Oregon…