Recipes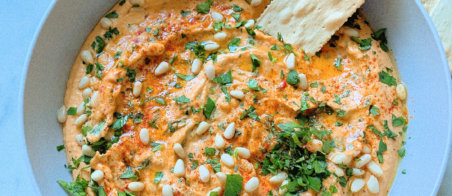 Easy Party Hummus
Sure you can buy hummus, but it's easy to make, and you get to add your own flavors. Plus you'll be skipping those icky refined oils that are in store bought hummus.
This recipe calls for harissa, which comes from Morocco, Tunisia and other North African countries. It's made from chilis, spices and oil, and it's delicious!
Fun fact about this dish: chickpeas and other beans are heart healthy and high in fiber.
I hope you enjoy this easy party hummus on your holiday table… or anytime as a healthy snack.
Want to see me make this hummus?
Serves 4-6 as an appetizer
Ingredients
2 cans of chickpeas, rinsed and drained
2 cloves of garlic, minced or pressed
1 cup ice water
1/2 cup tahini
1/4 cup freshly squeezed lemon juice
1-2 tablespoons harissa paste (start with a small amount; spice levels vary!)
1 teaspoon sea salt and ground pepper to taste
~ Garnish: a drizzle of extra virgin olive oil, oregano, toasted pine nuts, olive oil, some smoked paprika, and chopped parsley.
1 teaspoon oregano
Directions
Step 1

To your high speed blender or food processor, add: chickpeas, garlic, ice water, tahini, lemon juice, garlic, harissa paste, salt and pepper. Blend until smooth.

Step 2

To serve: spread hummus into a shallow bowl or plate. Garnish with chopped parsley, oregano, chili flakes, toasted pine nuts, some smoked paprika, and a drizzle of good extra virgin olive oil.

Serve with crackers and crudite of choice.
Notes