Recipes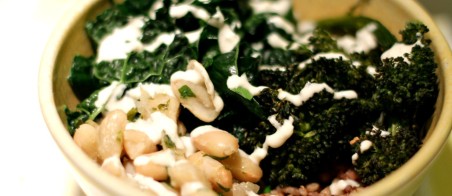 Ginger Miso Dressing/Sauce
I don't know many people who just love digging into a bowl of plain steamed vegetables — me included! If you want to eat more vegetables, I recommend mastering a couple of tasty sauces and garnishes to enhance the flavor of your veggies, and to keep things exciting for the palate. This Miso Ginger Dressing is excellent on greens of any kind, and I also like to toss it with warm rice when setting up the base for a "bowl." This dressing is creamy, a bit sweet, and a bit savory — and a little exotic with the addition of sesame oil.
Ingredients
3 tablespoons white miso
2 tablespoons extra virgin olive oil
2 tablespoons toasted sesame oil
the juice from one lemon
1 teaspoon raw honey
1 tablespoon grated ginger (I use a microplane for this)
Start with about 1/4 cup of filtered water (you can add more for a thinner consistency after the initial blend)
Directions
Step 1

Add all of the ingredients to the blender.

Step 2

Process until creamy and smooth. Add a bit more water if you want a thinner consistency.

Step 3

This will keep in the fridge for about a week.
Notes
Need more ideas for tasty salads? Click on the button below and you'll receive my "How to Love Salad" recipes mini-pack — and you'll also receive my weekly email with recipes, lifestyle tips, and other "insider news" you won't find on my blog or general website. The mini-pack includes recipes for:
Balsamic Sherry Vinaigrette
Ranch Style Tahini Dressing
Spiced Seed Mix
Just click on the button below!