Recipes
Green Machine Smoothie Recipe | Plant-Based, GF, DF
Vacations and work travel can be disruptive, right?
It's like this: we're plugging along, sticking to our healthy habits — eating lots of vegetables, staying away from the candy drawer, making it to the gym a few times a week — and then whammo! Travel comes in and blows things up.
All of a sudden, we're saying yes to that free drink on the plane, or to ice cream after dinner. And fries-with-that? No brainer. Overnight, we seem to have a new, less healthy default setting.
But after a few days of this behavior, we can start to feel kind of gross. And a little bummed out. The bloat sets in. Our energy lags. And those cute denim shorts we bought before vacation start getting tight. Darn you, vacation!
So what can be done?
Well, lots actually. While you're traveling, remember to drink lots of water throughout the day. And try to have salad or a side of veggies with at least two of your meals. Share entrees to keep portions reasonable (order a salad as your starter and you won't go hungry. I promise!). Order your cocktails "light" (on the booze), or forego the booze entirely and try having club soda with a splash of bitters.
And when you get back… Make this smoothie. Drink it every morning for a week, and feel free to keep going after that. It's great for you!
This blended concoction is called the Green Machine Smoothie because it means business. No frills, no fancy stuff. Nothing but tons of antioxidants, minerals, fiber, and hydrating natural water content. Just what we need after a week of rosé-all-day or whatever other trouble we get ourselves into on vacation. It's like a cleanse-in-a-glass. With just enough fruit to keep it sweet and refreshing and yummy.
This smoothie is adapted from celebrity nutritionist Kimberly Snyder's Glowing Green Smoothie.
Serves 2-3, depending on serving size.
Ingredients
1 cup coconut water (such as Harmless Harvest)
1 cup filtered water
A few BIG handfuls of romaine lettuce
A few BIG handfuls of spinach
1/2 cucumber, peeled, seeded and chopped
1 stalk of celery, rinsed and chopped
1 green apple, cored and chopped
the juice from half a lime
1/2 cup fresh mint leaves
1 banana, frozen
OPTIONAL: 1 teaspoon green powder (such as moringa or ashitaba)
OPTIONAL: 1/2 teaspoon of matcha powder (don't use if you're sensitive to caffeine)
OPTIONAL: 1 cup of ice
Directions
Step 1

Combine the coconut water, water, spinach, romaine in a blender and begin processing on low. Gradually move to higher speeds and blend until smooth. Blending the greens first will liquefy them, and create more space in the blender for the other ingredients.

Step 2

Next, add the celery, cucumber, apple, and fresh mint. Lastly, add the banana, lime juice, green powder (or matcha), and ice (if using), and blend until smooth. Serve at once or refrigerate, covered, for up to 2½- 3 days. Salud!
Notes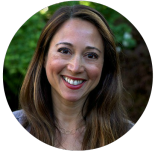 Remember to tag me on Instagram if you try the recipe.