Recipes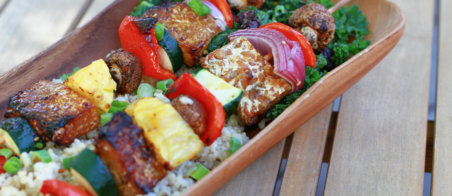 Hawaiian BBQ Tempeh Skewers
Grilling season can be challenging when you're trying to eat more plant based, but here's a fun and easy way to get your veggies on at the barbecue. 
Tempeh is one of the queens of plant proteins, and it hails from Indonesian cuisine. It's made from fermented soybeans, and is heartier and chewier than tofu.
That said, you might need to steam it first to help remove some of the natural bitterness.
I usually buy Surata brand tempeh, which is produced in Eugene, Oregon. Surata's tempeh is pre-steamed, so I get to skip the steaming. If unsure, check out the packaging on the tempeh you find in your area, and see if you can skip this step as well.
As with all soy products, this is the time you want to buy organic. Most of the soy produced in the US is a GMO product, so look for organic tempeh in the refrigerated section at your local store. You'll likely find it with the tofu and other plant based foods.
NOTE: the use of tamarind puree is optional. But if you see it at your local grocery store (or an Asian market), pick up a jar of this fun ingredient. It adds a sweet-sour vibe to marinade, dressing, desserts and sauces. Tamarind is a staple in Indian cooking, and is used throughout Asia and the Caribbean as well.
Ingredients
10 oz. tempeh, cut into 2-inch chunks
1/2 cup reduced sodium tamari or soy sauce
4 ounces of crushed pineapple (canned)
1 red onion: chop 1/4 of the onion and slice the rest into 2-inch pieces
2 garlic cloves, pressed or minced
1 tablespoon sesame oil
1 tablespoon olive oil
2 tablespoons rice vinegar
2 tablespoons sesame seeds
1 teaspoon freshly grated ginger or 1 teaspoon ginger juice
1 tablespoon Korean gochujang paste
2 tablespoons maple syrup
zest from 1 lime
Optional: 1 tablespoon tamarind purée
1 red bell pepper, cored and seeded. Cut into 2-inch pieces.
1 zucchini, cut into 2-inch pieces
6 crimini mushrooms
about 2 cups fresh pineapple chunks
3 green onions, sliced
To serve: cooked rice bamboo or metal skewers
Directions
Step 1

First, prep the tempeh. Steaming it for a few minutes can remove the natural bitterness, as well as prepare it or the marinade. Put a steamer basket in a saucepan and add 1/2 cup of water. Bring to a boil and add tempeh pieces. Cover and steam over low heat for 5 minutes.

Step 2

In the meantime, prepare the marinade: add the tamari (or soy sauce), crushed pineapple, chopped onion, garlic, sesame oil, olive oil, rice vinegar, sesame seeds, ginger, gochujang, maple syrup, lime zest and tamarind purée (if using) into a medium sized bowl. Whisk until incorporated.

Step 3

Pour half of the marinade into a shallow bowl or glass container with an airtight lid. Transfer the tempeh to the dish and cover with the lid. Give the dish a good shake to make sure all of the tempeh is coated evenly with marinade. Store the tempeh in the fridge to marinate for at least two hours. If you can, give the dish a shake from time to time to make sure the tempeh marinates evenly.

Step 4

To grill the tempeh: spray your grill rack with cooking spray and preheat to medium heat. If using wood skewers (as opposed to metal), soak them for a few minutes to prevent them from burning. Then, thread the tempeh, red onion, bell pepper, zucchini, mushrooms and pineapple chunks with the skewers.

Step 5

Set the skewers on the grill and brush the tops with the remaining marinade. Cook for 3 minutes on each side, rotating and brushing each side with the sauce until the tempeh is slightly charred and the vegetables are tender.

Step 6

Transfer the skewers to a plate and garnish with sliced green onion. Serve over cooked rice.
Notes
Do you want to eat more plant based… without going 100%?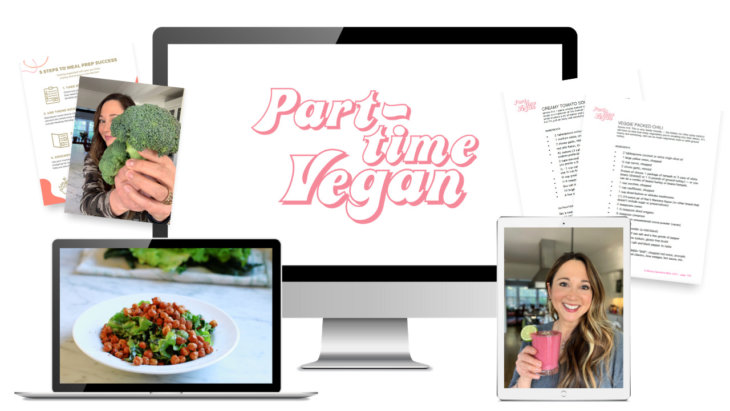 Supercharge your health with nutritional guidance, meal prep tips and recipes to help you prepare balanced, satisfying and delicious plant-based meals quickly and with less hassle.