Recipes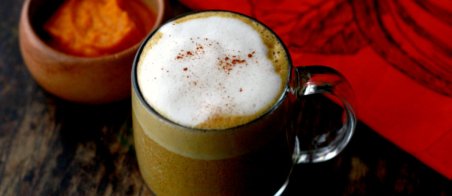 Healthy Pumpkin Spice Latte
Pumpkin spice may reign queen of the autumn months, but unfortunately most pumpkin spice lattes come with a heavy sugar load. For example, the Starbucks version has a whopping 50 grams of sugar — and the Dunkin' Donuts version has 48. That's more than the entire maximum daily amount recommended by the USDA!
Plus, most "pumpkin spice" products don't even have pumpkin in them. Which is a shame, because pumpkin is a very healthy food that's high in antioxidants and fiber. This makes it an excellent addition to an anti-inflammatory and blood sugar-regulating diet for people with joint pain, arthritis, pre-diabetes, Type 2 diabetes, and other inflammatory conditions.
Ingredients
8 ounces almond milk
4 ounces coconut milk (from the can; I prefer the lighter version)
1 teaspoon vanilla
1 tablespoon unsweetened pumpkin puree (or add 2 for a more intense pumpkin flavor)
1 teaspoon blackstrap molasses
1 teaspoon maple syrup (or more, to taste)
1/2 teaspoon pumpkin pie spice
1/4 teaspoon cinnamon
1/8 teaspoon ground cardamom
OPTIONAL Superfood boost: add a packet of medicinal mushroom powder, such as Reishi from Four Sigmatic
Directions
Step 1

Warm the almond and coconut milk over low heat to desired temperature.

Step 2

Add the plant milks, along with the rest of the ingredients, to a blender. Process until creamy and smooth.

Step 3

Pour into a mug and serve. If you have a milk frother, add a dollop of steamed almond milk on top, as well as a dash of cinnamon.