Recipes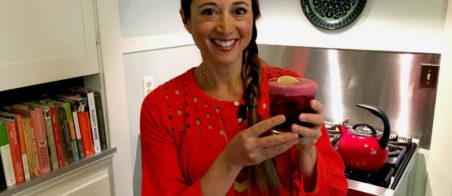 Ginger Hibiscus Iced Tea/Mocktail
This sweet-tart iced tea "mocktail" is perfect for party guests who don't drink, or for hot afternoons when you need a healthy pick-me-up. Did you know hibiscus tea has been shown to help with high blood pressure? Truth! In fact, it has been shown to be just as effective as a low dose of a leading blood pressure medication, without the side effects.
The recipe calls for tart cherry concentrate, as opposed to a traditional sweetener such as sugar, simple syrup, or honey. I like using tart cherry concentrate because it adds additional antioxidant firepower. It's also a good source of natural melatonin, which helps support sleep quality.
Ingredients
1/2 cup of dried hibiscus petals (look for them in the bulk foods/spice aisle, tea shop, or online)
About 1 quart of cold, filtered water
A one-inch piece of ginger, sliced into thin "coins"
A one-ounce shot of tart cherry concentrate (i.e. Michelle's Miracle brand)
Sparkling water
the juice from 1/2 lime
Directions
Step 1

Place the dried hibiscus and ginger sliced into a quart-sized mason jar. Fill with water and cover with a lid. Store in your refrigerator overnight to "cold brew" the tea.

Step 2

After 8-12 hours, strain the liquids and discard the solids. Store the hibiscus tea base in a sealed jar in your refrigerator until ready to serve. It should keep 2-3 days.

Step 3

To serve, fill your cocktail shaker with ice cubes. Fill it about 3/4-full of hibiscus tea base, then add a 1-ounce shot of tart cherry concentrate. Then, add the fresh lime juice.

Step 4

Put the lid on the shaker, and shake the dickens out of it for about 15-30 seconds.

Step 5

Pour contents into a rocks glass. Finish with a splash of sparkling water. Add a lime wedge for garnish, and serve.