Recipes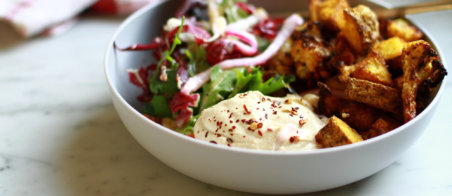 Hummus Bowls with Roasted Vegetables
Today we're taking a favorite snack and turning into a hearty and delicious meal with these Hummus Bowls with Roasted Vegetables. The base of this dish — the hummus — comes from the gorgeous cookbook, Eating Out Loud, by Eden Grinshpan. I highly recommend you check it out!
Ingredients
2 cans of chickpeas
1 cup tahini
2 tablespoons fresh lemon juice
2 teaspoons kosher salt
1 garlic clove, grated
1 teaspoon sea salt and ground pepper, to taste
1 cup ice cold water
1 head cauliflower, separated into small florets
1-2 tablespoons extra virgin olive oil
1 teaspoon hawaij seasoning (or substitute with ¼ teaspoon each of cumin, coriander, turmeric, and ground cardamom)
Kosher salt and pepper, to taste
1 red bell pepper, seeded and chopped
½ cup parsley, chopped
For serving: lemon wedges, pickled onion, or kalamata olives.
Directions
Step 1

Preheat the oven to 375 degrees Fahrenheit. Line a baking sheet with parchment paper.

First, roast the cauliflower. Place the cauliflower slabs onto the baking sheet, and drizzle with olive oil. Sprinkle the hawaij spice blend, salt, and pepper onto the cauliflower, and toss to coat.

Step 2

Roast the cauliflower for about 35 minutes, flipping carefully at the halfway point. The cauliflower will turn golden brown, and may be charred at the edges. When finished, remove from heat and set aside.

Step 3

In the meantime, prepare the hummus. Place the chickpeas, tahini, lemon juice, and kosher salt into the jar of a high speed blender. Add about half of the ice water. Then, put on the lid, and use the tamping tool while blending the mixture smooth. This'll take a couple of minutes.

Check for consistency. If you want a thinner hummus, then add more of the ice water and re-blend. Add salt and pepper to taste, and give everything a final blend.

Step 4

To serve, add some hummus into a wide bowl, and spread it evenly with the back of your spoon. Then, add the roasted cauliflower and chopped bell pepper on top. Garnish with toppings of choice — lemon wedges, pickled onion, parsley, kalamata olives.
Notes
Need ideas and inspiration for getting more veggies and plant foods onto your plate? Then hop on the waitlist for my membership program, More Veggies Less Meat.
More Veggies Less Meat is an online membership and community that provides meal prep tips, cooking instruction, recipes, and ideas to help you eat more veggies so you can feel empowered, energized, and strong in your body.
More Veggies Less Meat is open to vegetarian, vegan, veganish, and veg-curious eaters… in other words, it was created for anyone who simply wants to get more veggies in their life.