Recipes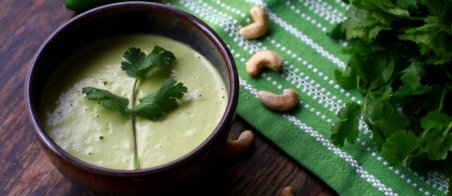 Jalapeño Cashew Cream
A lot of people miss cheese when they transition to a more plant-based diet. They miss the creaminess, and that rich, savory flavor that cheese can deliver.
This Jalapeño Cashew Cream delivers the luxuriously creamy quality of a cheese sauce, along with a spicy kick — all while being dairy free.
This recipe also packs a nutritional punch:
Cilantro — a powerful detoxifying herb.
Cashews — a rich source of heart-protective monounsaturated fats, as well as copper (antioxidant power) and magnesium (strong bones).
Jalapeño — Chile peppers contain capsaicin, which is an anti-inflammatory compound that can support healthy heart function, boost the immune system, and lower risk of type 2 diabetes.
Nutritional yeast — Plant based source of B-complex vitamins.
The next time you're craving something cheesy, blend up a batch of this flavorful sauce to drizzle over burritos, bowls, and nachos… or a taco salad.
Ingredients
1 cup of raw cashews, soaked in water for about 4 hours. Or, you can pour boiling water over them and quick-soak for an hour.
1 large jalapeño (or 2 small) — cored, seeded and chopped
1/4 cup cilantro (stems and leaves)
half a lime, juiced
1/2 teaspoon garlic powder
2 tablespoons nutritional yeast
1 tablespoon miso paste
1/2 teaspoon cumin
1/2 teaspoon chili powder
sea salt and pepper to taste
Directions
Step 1

Drain the cashews and put them into the blender.

Step 2

Add just enough filtered water to cover the cashews. Keep some additional water on hand for the blending process.

Step 3

Add the rest of the ingredients.

Step 4

Blend for about two minutes, or until the mixture is smooth. Add water a tablespoon a time, if needed, to reach desired consistency.

Step 5

If using a high speed blender, you can keep running the blender until the mixture is warm enough for serving. Or, you can transfer the mixture to a small pot and heat gently over low heat.

Step 6

Serve drizzled over burritos, bowls, nachos — or use it cold or at room temperature as a salad dressing. You can also use this as a spread for rice cakes, sandwiches, or wraps.