Recipes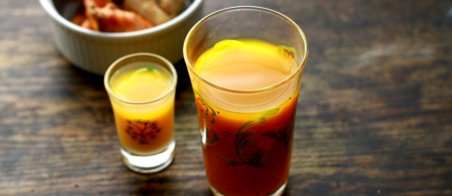 Jamu: Indonesian Turmeric Tonic
If you're a fan of Chef's Table on Netflix, you may have been intrigued by the episode where renowned pastry chef Will Goldfarb travels to Indonesia and partakes in a daily wellness tonic called jamu.
Jamu's key ingredient is turmeric. What's so special about turmeric?
Well, a lot! There are more than 5,000 studies and articles published about curcumin, one of the active ingredients in turmeric. Among other things, turmeric has been shown to be a powerful anti-inflammatory food, so it can be helpful for people with arthritis and rheumatoid arthritis. It can also help reduce risk for colon, prostate, and breast cancer.
Ready to get some more turmeric into your life? Great!
Here's a simple jamu recipe you can make at home to bring the healing power of Indonesia to your breakfast table. Heads up: it's strong! Feel free to add a little extra water or honey if you like.
This recipe is adapted from The Chalkboard. 
Please note: turmeric is highly pigmented, and can definitely stain your kitchen towels and fingers. Proceed with caution, okay?
Ingredients
Equipment: you will need a blender (or "Bullet" or "Ninja"), as well as fine strainer or nut milk bag
1/2 cup turmeric root, roughly chopped (scrub well with a vegetable brush and rinse)
One two-inch piece of ginger root, roughly chopped (scrub well with a vegetable brush and rinse)
One big pinch of freshly ground black pepper
4 cups filtered water
2 tablespoons raw honey
juice of 1 lime
OPTIONAL: a dash of cayenne, if you want an even spicier version
Directions
Step 1

In a blender, combine the turmeric, ginger, and ½ cup of water. Blend on high speed until the mixture resembles a fine puree.

Step 2

Pour the puree into a pot and add remaining water and honey. Add the ground pepper as well.

Step 3

Bring to a boil. Then reduce heat and simmer for 20 minutes.

Step 4

Turn off heat and add lime juice.

Step 5

Allow mixture to cool. Then, strain the mixture: run it through a fine sieve, or use a nut milk bag to filter out the pulp. Discard or compost the pulp.

Step 6

Store the filtered liquid in a mason jar in the refrigerator until ready to use. Serve it chilled in a small glass, or heat some up in a pot for an evening toddy. You can also serve it as a wellness "shot" in your favorite shot glass.

Feel free to add a drop of two of liquid stevia if you want a bit more sweetness.
Notes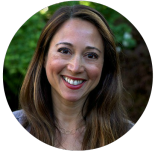 Remember to tag me on Instagram if you try the recipe.