Recipes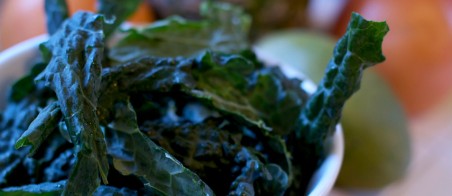 Kale Salad with Maple Tahini Dressing
Kale salad — it's everywhere! And for good reason. Kale is high in fiber and nutrients, including glucosinolates that have been reported to fight five kinds of cancer. Kale is also high in nutrients that help the body detoxify and reduce inflammation. From a practical standpoint, I love kale because it's the perfect foundation for a make-ahead salad — the sturdy greens stand up to a creamy dressing, and often the salad tastes even better the next day. I like to add a little sweetness to my kale salads — this recipe features a Maple Tahini Dressing, as well as chopped dates for garnish.
If you have leftovers, you can tuck the dressed greens into a wrap — a delicious way to incorporate more veggies into your day.
Serves 4, with some leftover dressing to use in other salads, wraps, etc.
Ingredients
1/3 cup of tahini
2 tablespoons extra virgin olive oil
Juice from 1 lemon
1 tablespoon pure maple syrup (avoid brands that include high fructose corn syrup or other additives)
1/3 cup of water; you can add more for a thinner consistency
1/4 cup chopped pistachios
1 large bunch of Lacinato kale — remove the stems and thinly slice leaves. If in a rush, you can also use bagged kale.
1/4 cup chopped medjool dates (or any dried fruit you have on hand)
optional — a pinch of cayenne pepper, for heat
sea salt and ground pepper to taste
Directions
Step 1

For the dressing: add the tahini, olive oil, lemon, and maple syrup into a small bowl. Whisk in the water a little bit at a time, whisking until the water is incorporated. Keep adding water and whisking until you reach the desired consistency for your dressing. Taste and season with sea salt and pepper.

Step 2

Add the kale and half of the dates to a salad bowl. Drizzle some dressing onto the greens and use clean hands to mix and massage the kale so the leaves are coated evenly with dressing. Keep going through the process until the leaves are coated and the kale is slightly wilted.

Step 3

Transfer the salad to a serving platter and scatter with the pistachios and remaining dates. Drizzle on a bit of extra dressing if desired. Season with salt and pepper, and serve.
Notes
Looking for more kale recipes?
Just sign up for my newsletter, where you'll receive exclusive recipes, lifestyle tips, and other insider news each week. Just click the button below, and you'll get immediate access to 3 of my most popular kale recipes!