Recipes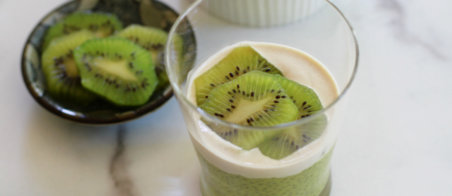 Key Lime Chia Pudding with Cashew Cream
Dessert for breakfast?
Yes, please!
Meet this delicious Key Lime Chia Pudding.
Chia puddings are a popular breakfast option for people trying to eat more plant based. That's because chia puddings are a great alternative to dairy-based yogurts — and they're really fun to turn into a parfait with layers of fruit and granola.
Chia seeds give the pudding its structure, and they're a rich source of fiber to keep your digestive system happy.
I've also included some matcha powder for extra antioxidants and beautiful color. Matcha is a powder made from green tea leaves, and it can be a nice low-caffeine alternative if you want a little pick-me-up, without the crash.
Ingredients
1 cup coconut milk
1 teaspoon freshly grated lime zest
1/4 cup freshly squeezed juice from key limes or regular limes
2 tablespoons maple syrup, plus 1 additional for the cashew cream
1/4 teaspoon vanilla extract
2 teaspoons matcha powder
1/4 cup chia seed
1/2 cup raw cashews, soaked overnight
1/2 cup of water
a pinch of salt
Garnish with sliced kiwi or berries, if desired
Directions
Step 1

Add the coconut milk, lime zest, lime juice, maple syrup, vanilla extract and matcha together in a blender. Process until blended.

Step 2

Next, pour the mixture into a bowl. Whisk in the chia seeds, then let the mixture set for about 15 minutes. Whisk again, and then cover the bowl and put it into the fridge for at least 2 hours, or overnight.

Step 3

In the meantime, prepare the cashew cream. Drain and rinse the cashews. Then add to a blender with a pinch of salt, and just enough water to cover the blender's blades. Add the maple syrup, and blend until the mixture is thick and creamy. Pour into a jar or bowl with an airtight lid and store in the refrigerator until ready to use. It should keep for about 3 days.

Step 4

To assemble, spoon some of the chia pudding into a small bowl or glass. Drizzle the cashew cream over the top and add sliced fruit, if using.
Notes
Do you want to eat a more plant based diet — but don't want to go all in?
Get on the waitlist for my new program, Part-Time Vegan — launching summer 2021.