Recipes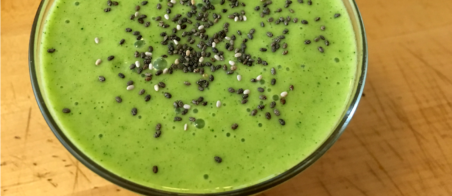 Mango Kale-ada Smoothie
Green smoothies can get a little boring after awhile, especially if you keep using the same combination of spinach and bananas and almond butter. Which we all do, by the way!
So here's your chance to excite the palate with tropically green deliciousness. This smoothie includes kale for serious antioxidant power, and a combination of coconut milk, coconut water, and lime to give it a piña colada vibe.
I've added mango to sweeten things up, and you can add some frozen banana if you want things even sweeter.
When it comes to coconut water, I adore Harmless Harvest. It's more expensive than Zico or other major brands, but it's totally worth it. The flavor is outstanding — nutty and fragrant, it tastes as if you just cracked open your own young Thai coconut. HH's coconut water contains no additives, and undergoes a special micro-filtering process to preserve the nutrients. Finally, the company is committed to fair trade and labor practices. All around winner! Look for it in the refrigerated section at your local natural grocery store.
Ingredients
1 cup of unsweetened coconut milk (light or full fat)
1 cup of coconut water (i.e., Harmless Harvest). You can also substitute with regular filtered water.
A few leaves of Lacinato kale, or a mixture of kale and spinach
2 cups frozen mango chunks
A squeeze of fresh lime
OPTIONAL — 1/2 a banana, frozen and in chunks (for additional sweetness)
OPTIONAL — a scoop of your favorite rice or pea protein powder
OPTIONAL — 1/2 cup of ice (for frosty texture)
OPTIONAL — garnish with a sprinkle of chia seeds
Directions
Step 1

Place ingredients into a high-speed blender, adding frozen fruit and ice last.

Step 2

Blend until creamy and smooth. Add water a quarter-cup at a time if you want a thinner consistency.

Step 3

Serve immediately or store some in the fridge for later. Salud!