Recipes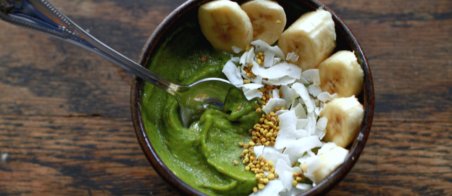 Matcha Smoothie Bowl
Matcha's all the rage these days, and with good reason.
That's because matcha is a highly concentrated form of green tea. Instead of brewing green tea from leaves, matcha is actually made from high-grade tea leaves that have been ground into a fine powder.
This means that by consuming matcha — such as in a tea latte, or blended into a smoothie — you're getting a highly concentrated food that's high in antioxidants. In fact, research has shown that matcha may have a protective effect against certain kinds of cancer, including bladder, breast, colorectal, and prostate.
Matcha can also help support weight loss and enhance metabolism, as well as boost the immune system.
I use a small amount of matcha powder in this recipe, because it does include caffeine. If you're super sensitive to caffeine, feel free to omit the matcha altogether. You'll still have a delicious and nutritious smoothie bowl that's packed with antioxidants from the fresh greens.
Ingredients
1/4 cup coconut water or unsweetened hemp milk. Start with 1/4 cup and add liquid as needed.
2 cups frozen banana chunks
1 cup frozen mango chunks
1 cup shredded kale or spinach
1 teaspoon matcha powder (easily found in natural grocers and tea shops, or online)
OPTIONAL: 1/2 teaspoon of your favorite green/superfood powder (i.e., spirulina, chlorella, etc.)
OPTIONAL: add 1/4 cup golden berries (you'll find them in the raw foods or dried fruit section of well stocked natural grocers)
Garnishes of choice: fresh banana slices, berries, bee pollen, etc.
Directions
Step 1

Add the fruit, kale (or spinach), and matcha powder to a high speed blender or a food processor. Add the golden berries and superfood/green powder, if using.

Step 2

Add just enough liquid to get things going. You can even omit the liquid completely if you want a really thick consistency, similar to ice cream.

Step 3

If using a blender: use the blender's tamper tool to push the ingredients towards the blades while blending on high. This can get kind of loud, but a high speed blender like the Vitamix can handle it.

If using a food processor, process the ingredients while occasionally pausing to scrape down the sides of the processor. Continue to blend until smooth, approximately 2-4 minutes.

Step 4

Once the ingredients are blended into a thick, ice-cream like consistency, stop blending. Be sure not to overblend, or the mixture will become soupy (like a smoothie).

Step 5

Use a spatula to scoop the mixture into a bowl. Garnish with your toppings, and enjoy. Eat asap — it melts quickly!