Recipes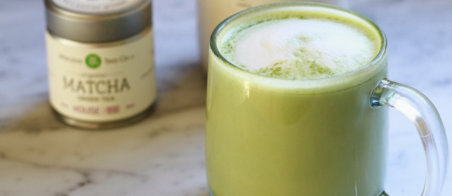 Minty Matcha Latte
How about whipping up a delicious and creamy morning beverage — with less caffeine than your typical cup of coffee?
If that sounds good to you, you're going to love this yummy Minty Matcha Latte.
First we'll start by warming up some almond milk — I love, love, love aMylk, which is made here in Portland. It's hands down my favorite line of plant milks, and you can find aMylk at the main farmers markets around town, and also online. My personal fave is the hazelnut milk. So good!
A couple of things before we get started:
Number one: the recommended water temperature for brewing green tea is about 185 degrees Fahrenheit — not quite boiling.
Number two: green tea is so good for you! This recipe calls for matcha powder, which is made from green tea leaves that are grown in the shade, so they develop more chlorophyll — which makes for this bright green powder. Matcha, like regular green tea, is high in cancer fighting antioxidants. I like to use Mizuba matcha. But you can use the matcha you find in your grocery store or tea shop.
Also, I use a handheld frother to whip up the milk — it's a super handy and inexpensive kitchen tool to have on hand.
Hope you love this recipe for a fun twist on my go-to morning beverage!
Ingredients
8 ounces unsweetened almond milk (I recommend aMylk)
4 ounces hot water (just under boiling: 175-185 degrees F)
1 teaspoon culinary matcha powder (or splurge on the ceremonial grade matcha)
1 drop edible peppermint essential oil OR ¼ teaspoon peppermint extract
A couple drops of liquid stevia (optional, for sweetness)
Directions
Step 1

Warm the almond milk and coconut butter gently in a small pot. When warm, froth the mixture with a handheld frother.

Step 2

Heat water, but not to boiling. For green tea, the ideal temperature for brewing is about 185 degrees F.

Step 3

Add the matcha powder and peppermint oil (or extract) to a mug and add the hot water. Using a handheld frother, blend until smooth. Alternatively, you can use a metal whisk or bamboo matcha chasen to whisk the mixture.

Step 4

Add the frothed milk to the mug and enjoy.
Notes
Do you need more support around healthy meal prep, nutrition tips and recipes?
Click here to join the waitlist for More Veggies Less Meat, my online membership.