Recipes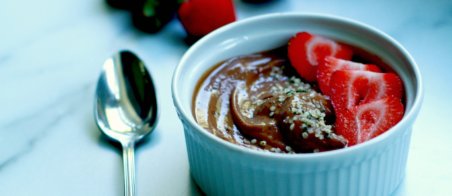 Mocha Nice Cream
Ice cream may a summertime favorite, but a lot of people out there simply can't digest dairy.
That's why I love this simple and dairy-free version — Mocha "Nice" Cream.
The sweetness in this recipe is coming from whole fruit — bananas and dates. No added sugar or sweetener.
We're also using a super secret ingredient to boost the nutrition: riced cauliflower.
Wha?!? Cauliflower?
Trust me. You won't taste it at all. Plus, you'll be getting extra cancer-fighting antioxidants with your sweet treat.
Lastly, we add unsweetened cacao powder — another rich source of antioxidants.
Ingredients
4 cups chopped bananas, frozen
1/2 cup frozen cauliflower (riced). Look for riced cauliflower in the frozen section.
1 teaspoon instant espresso or coffee powder
1/2 teaspoon vanilla extract
2 tablespoons unsweetened cacao powder
1/4 cup hemp seeds
2 medjool dates
1/4 cup unsweetened plant milk of choice (may need up to 1/2 cup)
Garnish: mini chocolate chips, coconut flakes, fresh berries, or other toppings of choice
Directions
Step 1

Place the frozen bananas, cauliflower, espresso powder, vanilla, cacao powder, hemp seeds, dates, and plant milk into a high speed blender or food processor.

Step 2

Start blending, pausing frequently to scrape down the sides. Alternatively, if your blender came with a tamper tool, you can use that while blending. If necessary, add a splash of nut milk or coconut water to get things going. You don't want to use too much liquid, though, because that could cause the mixture to melt too quickly.

Step 3

Keep tamping and blending until the ingredients are blended into consistency similar to soft-serve ice cream.

Use a rubber spatula to transfer to a bowl, add toppings, and serve. Eat immediately — this yummy concoction melts quickly!
Notes
Bonus! Get your free Healthy Meal Planning and Prep Guide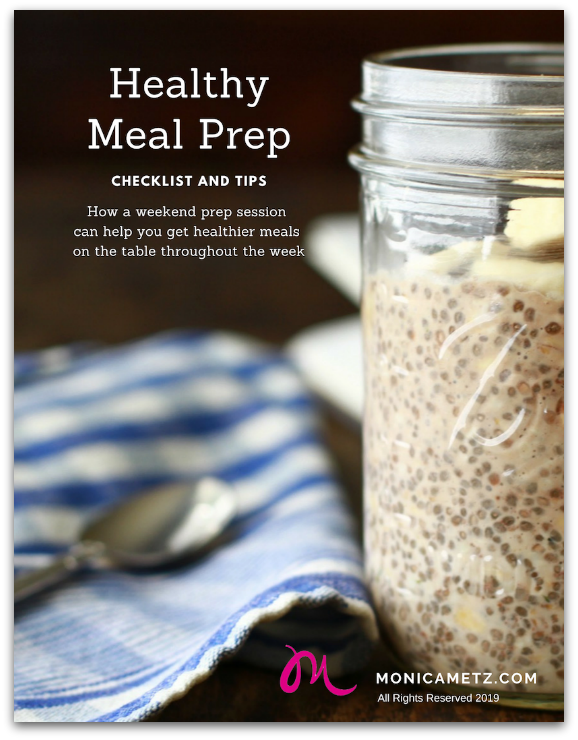 Life is busy, and weekends can be super busy, whether you're doing errands, having fun, or dedicating your entire weekend to youth sports LOL.
However, if you make the time for meal prep, you won't regret it. Especially when you realize it takes you only 15 minutes to make dinner during the week, instead of the usual 30-60.
Here's even more good news: I created a new freebie for you! It's my downloadable and totally printable Healthy Meal Prep Guide.
Inside, you'll find more details about my approach, as well as:
• Shopping and meal prep strategies. 
• A blank meal planning template.
• Sample meal plans.
• Downloadable and printable shopping list.
• Weekend prep session checklist.
Ready to download the guide?
Great!
Just click here to get your Healthy Meal Prep Guide.