Recipes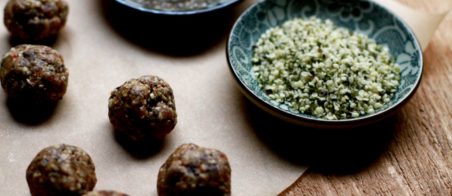 Oatmeal Chocolate Chip Energy Bites
Has this ever happened to you?
… You show up for your workout, sail through a warm-up, and are in the middle of what you hoped would be a great run and then — bonk! — your legs or lungs say, "Sister. This workout is over." Sure, you might slog along for a little longer, but you're only going through the motions. The long run you envisioned will have to wait for another day.
Or… you have a great workout, and then you hit the showers. After you're dressed and ready to go, you plan on grabbing some food later. But then you run off to work and make do with a coffee. Or, you decide to run a quick errand before you eat, which leads to another errand. A couple of hours later, you still haven't eaten.
And now, you're STARVING, and you start to panic. Must. Eat. Now!
Today's recipe can solve both issues — because there are protein-rich, portable, and oh-so-delicious little snacks you can enjoy either before a workout, or as part of your post-workout recovery. These tasty Energy Bites are a snap to make — no baking necessary. They firm up in the freezer, and then they're ready for you to pop into your bag before a workout. They're also small enough to tuck into a pocket for mid-run energy.
These Energy Bites are packed with flavor and healthy fats from peanut butter, hemp seed, flax seed, and chia seed. Plus, the oats provide fiber and good-carb energy. The dates provide whole-food sweetness, as well as fiber, potassium and copper. And, the (optional) chocolate chips make them taste a bit decadent.
Which they are — you only need to eat a couple of these cuties since they're so rich.
I love this recipe because it adapts so easily to whatever you have on hand. For example, feel free to sub out the peanut butter for almond butter, or use almonds or sunflower seeds instead of cashews. It all works, and it's all delicious.
These Energy Bites are also perfect for a kiddo's lunch box. They're much tastier than store-bought energy bars, and much more wholesome, since you control the sweetness and the quality of the other ingredients. They're also really fun to make with your kids — just like rolling out cookie dough, but much healthier, of course!
Makes about 24-30 energy bites (2" diameter)
Ingredients
Special Equipment: you will need a food processor
1 1/2 cup medjool dates *be sure to remove all of the pits!
1/4 cup raw cashews
1/2 cup unsweetened peanut butter, ideally organic
2/3 cup gluten free rolled oats (i.e. Bob's Red Mill)
2 tablespoons chia seeds
2 tablespoons flax seed
2 tablespoons hemp seed
2 tablespoons coconut flakes
1 teaspoon vanilla extract
1 tablespoon coconut oil, solid
1/4 cup mini chocolate chips, such as Enjoy Life allergy-friendly chocolate (feel free to omit)
a good pinch of sea salt
Directions
Step 1

Put the dates into the bowl of the food processor. Pulse until the dates are chopped into small bits — you don't want to overdo it, or the dates will turn into a big ball of stickiness. Which isn't the end of the world, but the ingredients are easier to incorporate if you stop when the dates are small bits.

Step 2

Add the rest of the ingredients.

Step 3

Pulse until the ingredients are mixed evenly. You may need to stop and even out the ingredients with a spatula from time to time.

Step 4

Once the ingredients are well incorporated, spoon out a small amount and roll the dough into a little ball. Repeat until all of the dough has been rolled out.

Step 5

Place the balls onto a little tray and freeze for about 20 minutes. Once they're frozen, you can throw them all into a ziploc bag or container for easy storage. To enjoy, just remove a couple from the freezer and let them thaw out for a couple of minutes.
Notes
Looking for additional workout-friendly recipes?
Try my Heart-Healthy Strawberry Smoothie. It includes beets, which professional athletes use to improve oxygen utilization and support athletic performance.
Just click here for the recipe!