Recipes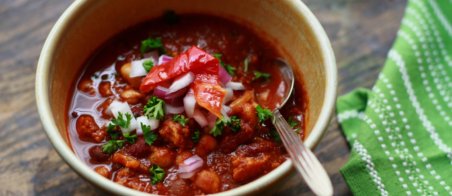 One Pot Vegan Chili with Chipotle (Instant Pot or Stovetop)
My One Pot Vegan Chili is deceiving. Your meat-eating friends will never guess it's plant-based, and your kiddos (or other veg-averse people) will have no idea they're eating cauliflower and mushrooms.
Hearty and satisfying, this chili gets its meaty texture from organic tempeh. And it delivers a nice little kick from some chipotle — the kind you buy in a little can. A little warning, though — don't use the whole can! You'll only need 1 pepper — maybe 2 — depending on how much heat you want.
I used to make this chili on the stovetop for years, until I discovered the Instant Pot. I'm obsessed! It has the set-it-and-forget-it appeal of slow cookers… but it's fast!
Having an Instant Pot is like having a sous chef. No more hovering over a simmering pot with a wooden spoon. No need to keep checking it every five minutes.
It's as if you can say to the Instant Pot, "Yo IP, you mind watching the chili while I take a shower?"
Or maybe you don't need a shower. You just want to watch The OA.
You see, it doesn't matter what you want to do while the chili's cooking. Because the IP says, "No problem. I've got this."
Music to my ears. And yours too, I bet.
But if you don't yet have an Instant Pot, no worries! I've included stovetop directions as well.
Ingredients
1 tablespoon avocado oil
1 large yellow onion, chopped
½ cup carrot, chopped
4 cloves garlic, minced or pressed
1 12-ounce package of organic tempeh
1/4 cup chili powder
1 tablespoon cumin
1 tablespoon oregano
1 tablespoon cacao powder (unsweetened)
1/4 teaspoon cinnamon
1 cup cauliflower, chopped
1 cup button mushrooms, chopped
1 cup zucchini, chopped
2 bay leaves
3 cans of white beans, rinsed and drained
3 cups of low sodium vegetable broth
1 chipotle in adobe sauce (from a can), minced. Or 1/2 teaspoon dried chipotle powder. Start small... you can always add more!
(1) 28-ounce can of crushed tomatoes (low sodium)
1 teaspoon of sea salt and a few grinds of pepper, plus sea salt and pepper to taste
OPTIONAL TOPPINGS: chopped red onion, avocado chunks, Mama Lil's pickled peppers, chopped cilantro, lime wedges, hot sauce, etc.
Directions
Step 1

FOR THE INSTANT POT...

First, steam the tempeh. This will help remove its slightly bitter flavor, and prepare it for seasonings.

Set the trivet inside the Instant Pot and add a cup of water. Set the tempeh onto the trivet and close the lid. Set the Instant Pot to manual and press the decrease button until you reach "0" (yes, you can set it to zero!). The Instant Pot will take a few minutes to come to pressure, and it'll steam the tempeh. When the timer goes off, release the steam via the venting valve. Remove the lid (facing it away from you so you don't get burned by any steam), and set the tempeh aside. Remove the trivet and pour out any remaining water. Set the liner (pot) back into the Instant Pot.

Set the Instant Pot to "sauté" mode. When the display says, "hot", add the oil to the pot. Add the onion and carrots, and sauté for 5-10 minutes, until the onion is tender and starting to brown. Throw in the garlic and cook for about a minute, stirring.

Crumble the tempeh into the pot and sauté until slightly browned. Add the chili powder, cumin, oregano, cacao and cinnamon. Sauté for a minute, stirring until the onions are coated with the spices.

Now, add the cauliflower, mushrooms, zucchini, bay leaves, beans, broth, chipotle, tomatoes, and salt. Add a few grinds of pepper, and give everything a stir.

Turn off the Instant Pot, then set turn it on, to the manual setting. Press the minus symbol until you reach 10 (minutes). Put the lid on, set the vent to sealing mode, and let the IP do its thing. It'll come to pressure after about 10-15 minutes, and then the timer will start counting down. When the timer reaches zero, let the pressure release naturally.

When the pressure has released, remove the lid (facing the lid away from you), and adjust for seasonings. Discard the bay leaves, and serve with your choice of toppings.

Step 2

FOR STOVETOP...

First, simmer the tempeh. This will help remove its slightly bitter flavor, and prepare it for seasonings. To simmer tempeh: fill your pot with an inch or two of water and bring it to a boil. Place the tempeh in the saucepan, cover the pot, reduce the heat and let the tempeh simmer for 10-15 minutes. Now, remove the tempeh and set aside. Give it a little pat to dry it off. Pour the water out of the pot, and return it to the stove.

Heat the oil in the pot. Add the onion and carrots, and sauté for 10-15 minutes, until the onion is tender and starting to brown. Throw in the garlic and cook for about a minute, stirring.

Crumble the tempeh into the pot and sauté until slightly browned. Add the chili powder, cumin, oregano, cacao and cinnamon. Sauté for a minute, stirring until the onions are coated with the spices.

Now, add the cauliflower, mushrooms, zucchini, bay leaves, beans, broth, chipotle, tomatoes, and salt. Add a few grinds of pepper, and give everything a stir.

Bring to a boil, then reduce heat and simmer for 30-40 minutes, stirring occasionally. Add extra broth for a thinner consistency if desired.

When the chili is done, discard the bay leaves and adjust for seasonings. Discard the bay leaves, and serve with your choice of toppings.

Step 3