Recipes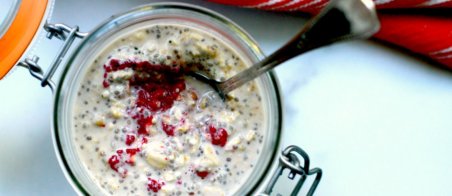 PB&J Overnight Oats (or Almond Butter and Jam Overnight Oats)
This recipe takes a classic lunchbox favorite and turns it into a healthy and delicious grab-and-go breakfast.
It works equally well with either peanut butter (classic!) or almond butter (a healthier version).
Either way, this recipe will have you feeling like a kid again — and fueled up for a great start to your day.
This recipe pairs well with my super easy and quick Mixed Berry Chia Jam. 
Ingredients
1/3 cup of old-fashioned rolled oats, gluten free if desired
2 tablespoons chia seeds
1 tablespoon of hemp seed
1 tablespoon ground flax seed
a pinch of sea salt
1 cup of unsweetened plant-based milk (i.e. hemp, coconut, etc.)
A dash of vanilla extract
1 tablespoon of maple syrup (feel free to omit)
1-2 tablespoons of unsweetened organic peanut butter or almond butter
1 tablespoon of pure fruit jam (try to look for no-sugar or reduced-sugar varieties)
Optional: garnish with fresh berries or sliced banana
Directions
Step 1

Add the oats, chia seed, hemp seed and flax seed to a 16-ounce mason jar. Give everything a stir, and add a pinch of salt. Then add the plant based milk, vanilla, and maple syrup (if using), stirring again until the wet and dry ingredients are incorporated.

Step 2

Next, swirl in the peanut butter and jam. Don't try to be perfect about this — just try to break up the peanut butter (or almond butter) so it's not just one big chunk sitting in the oats mixture.

Step 3

Screw on a lid, and put in the fridge overnight. In the morning, stir the mixture and add a splash more milk. It could be sweet enough for you already, or you can add a drizzle of maple syrup to taste.

Garnish, if desired, with fresh berries or sliced banana.
Notes
Bonus! Get your free Healthy Meal Planning and Prep Guide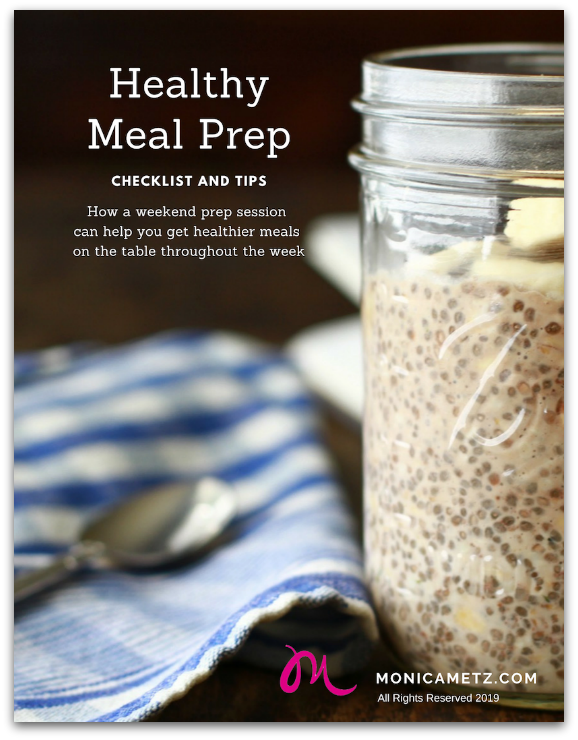 Life is busy, and weekends can be super busy, whether you're doing errands, having fun, or dedicating your entire weekend to youth sports LOL.
However, if you make the time for meal prep, you won't regret it. Especially when you realize it takes you only 15 minutes to make dinner during the week, instead of the usual 30-60.
Here's even more good news: I created a new freebie for you! It's my downloadable and totally printable Healthy Meal Prep Guide.
Inside, you'll find more details about my approach, as well as:
• Shopping and meal prep strategies.
• A blank meal planning template.
• Sample meal plans.
• Downloadable and printable shopping list.
• Weekend prep session checklist.
Ready to download the guide?
Great!
Just click here to get your Healthy Meal Prep Guide.