Recipes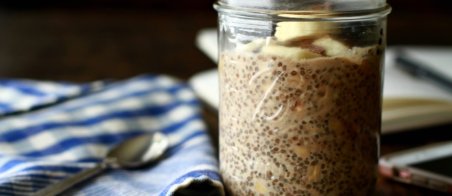 Peanut Butter Chocolate Overnight Oats
Overnight Oats is my go-to when I have a big morning workout ahead of me. For this recipe, I use old-fashioned, gluten free rolled oats. Oatmeal is high in fiber and resistant starch, which helps you feel satisfied longer while also shuttling toxins from the body. I also add both chia and hemp seed for extra fiber, healthy omega-3 fatty acids, and protein. The chia seeds expand and give the mixture a bubble-tea style, pudding like consistency.
Tip: Make a batch of jars at once, and then you'll have grab-and-go breakfast for the next few days!
Ingredients
1/2 ripe banana
1 cup of unsweetened plant-based milk (i.e. hemp, coconut, etc.)
1/3 cup of old-fashioned rolled oats (or steel cut)
A dash of vanilla extract
2 tablespoons chia seeds
1 tablespoon of hemp seed
a pinch of sea salt
1 teaspoon of unsweetened cacao powder
1-2 tablespoons of unsweetened organic peanut butter
1 tablespoon of maple syrup, if desired
Directions
Step 1

Use a fork to mash the banana in the base of a 16-ounce mason jar.

Step 2

Then add the plant based milk and give it a stir. Next, add the oats, vanilla, seeds, sea salt, and cacao powder. Whisk until the ingredients are incorporated.

Step 3

Now, stir in 1 tablespoon of peanut butter. It won't be fully incorporated, but that's okay. The next morning, it'll be kind of like the caramel ribbons you find in ice cream.

Step 4

Give everything a good stir, screw on a lid, and put in the fridge overnight.

Step 5

In the morning, stir the mixture. You might want to add a splash more milk, another tablespoon of peanut butter, or some maple syrup. Fresh berries or banana slices are always nice here, too.

Enjoy!
Notes
If you make the recipe, tag me over at Instagram. I'd love to hear from you!