Recipes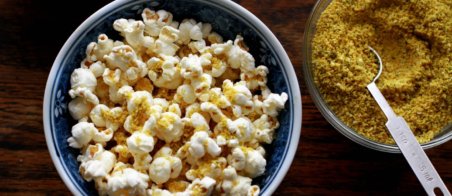 Plant Based Parm
This is a great non-dairy substitute for Parmigiano- Reggiano, providing some healthy fats and a bit of protein.
The cheesy flavor comes from nutritional yeast. I like to sprinkle this over popcorn, pasta, zucchini noodles, salads and soups. Savory, and so yummy!
Ingredients
1/3 cup hemp seeds
1/3 cup raw, unsalted cashews
1/3 cup nutritional yeast
1 teaspoon extra virgin olive oil
1/2 teaspoon ground turmeric
1/2 teaspoon sea salt
Directions
Step 1

Place all ingredients into a food processor fitted with a metal blade. Pulse until the mixture is finely ground.

Step 2

Serve over pasta, Caesar salad, bean salads, etc.

Step 3

Store leftovers in the fridge in a jar with an airtight lid. Should keep for a couple of weeks. But mine never lasts that long — I use it on everything!