Recipes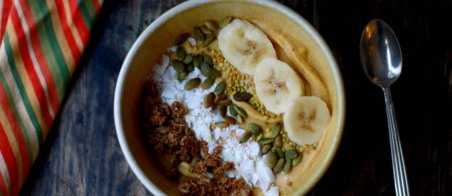 Pumpkin Spice Smoothie Bowl with Granola | GF, dairy free, plant based
This recipe takes the whole pumpkin spice thing next level — with a creamy and delicious Pumpkin Spice Smoothie Bowl.
I like to use a combination of frozen banana and mango for sweetness, and then add pumpkin spice, as well as turmeric for some extra anti-inflammatory power.
Then, we add some real pumpkin puree for additional fiber and beta-carotene (for healthy eyes and glowing skin).
Ingredients
1 frozen banana, in chunks
1 cup frozen mango chunks
1/4 cup unsweetened light coconut milk (the culinary kind, in a can), and additional as needed
1/4 cup coconut water (I like Harmless Harvest, from the refrigerated section)
2 tablespoons unsweetened almond butter
1/2 cup unsweetened pumpkin purée
1/4 teaspoon turmeric
a big ol' pinch of ground cardamom
1/2 teaspoon pumpkin pie spice
A splash of vanilla extract
Toppings: gluten free granola, sliced banana, toasted coconut, pumpkin seeds, bee pollen, chia seeds, and/or coconut yogurt
Directions
Step 1

Add the frozen banana and mango to a high speed blender. Pour the liquid over the frozen fruit, and blend, using the tamper tool to keep things going.

Step 2

Blend until the fruit has broken down, then add the pumpkin, almond butter, spices, and vanilla. Blend until smooth, using the tamper tool as needed, until the mixture resembles soft serve ice cream.

Step 3

Transfer the mixture to a bowl using a rubber spatula, and smooth out the top. Garnish with your choice of granola, and additional toppings.
Notes
Remember to tag me on Instagram if you try the recipe.