Recipes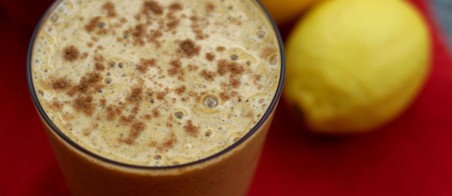 Pumpkin Spice Smoothie
Pumpkin offers some powerful nutrients such as beta-carotene, which the body uses to make Vitamin A. This important antioxidant helps counteract free radicals in our skin, which helps prevent wrinkles and keep our skin looking youthful. Pumpkin is also high in Vitamin C. Bonus points for extra veggies in this smoothie: cauliflower!
Ingredients
1 cup unsweetened almond milk
1 cup filtered water
2 tablespoons hemp seeds
2 tablespoons pumpkin seeds
1 tablespoon unsweetened almond butter
1 tablespoon blackstrap molasses
1 cup of pure pumpkin puree (unsweetened)
1 teaspoon pumpkin pie spice
1 teaspoon vanilla
1 cup frozen cauliflower florets
1 frozen banana
optional — a pinch of cayenne for some heat
Directions
Step 1

Place ingredients into blender, adding frozen fruit (and cauliflower) and ice last.

Step 2

Process until creamy and smooth. Add water a quarter-cup at a time if you want a thinner consistency.

Step 3

Serve immediately or store some in fridge for later. Salud!
Notes
Need some more ideas and recipes?
Just follow the link below, and you'll get instant access to 3 of my most popular kale recipes:
The Easy-on-the-Green Smoothie (low "green" intensity)
Nacho Cheese Kale Chips (medium intensity)
Massaged Kale Salad (high — for kale lovers)
The recipes offer a variety of kale "intensity" — a tasty smoothie for beginners, kale chips for intermediate veggie eaters, and a kale salad for the advanced veggie eaters. Enjoy!