Recipes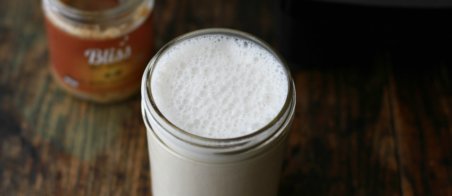 Quickie Nut Milk (no soaking or straining)
One of the best ways to start feeling better — and reduce bloating — is to avoid dairy, either by eliminating it completely or making it a 1x/week thing.
Most of my clients feel much better once they ditch the dairy. Their skin clears up, and their belly starts to feel flatter. In addition, they're also reducing their risk for prostate, ovarian, and breast cancer — always a good thing!
Plant based milk is a wonderful substitute for cow's milk, and it's super easy to make at home. You could use soaked almonds or other nuts, but you can also take a shortcut and use your favorite nut butter. No soaking or straining required!
Use in smoothies, over cereal or oats, or straight up. It's that delicious!
Ingredients
1/4 cup cashew, almond or hazelnut butter (if you live in PDX, try Bliss Nut Butters hazelnut butter)
2 cups of filtered water
a dash of vanilla extract
a pinch of sea salt
Directions
Step 1

Place all ingredients into your blender. Blend on high until ingredients are incorporated.

Step 2

Store in an airtight container in the fridge for 5-7 days. Shake well before using.