Recipes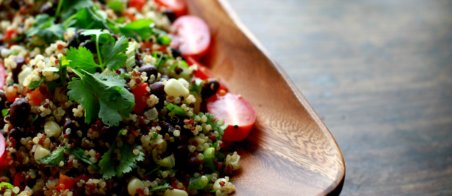 Quinoa Black Bean Salad with Corn and a Jalapeño Vinaigrette
This salad is so satisfying — so many fresh flavors from the green onions, jalapeño and cilantro. Plus, the combination of quinoa and black beans makes this salad full of protein and fiber.
This is a great prep-ahead meal you can keep in the fridge to enjoy throughout the week. You can enjoy the salad served alongside some dressed greens, or wrap it up in lettuce leaves. It's also yummy tucked into a tortilla with some avocado wedges. It also makes a great potluck dish.
To make things even easier, prep ahead by making the quinoa, and cooking the corn, the day before you want to assemble the salad. Better yet, get your kiddos, partner or friends to help as sous-chefs, and the salad will come together that much more quickly.
Time saving tip: make your quinoa in the rice cooker. It turns out perfectly cooked grains every time. 
Serves 8. Plenty for a potluck offering or dinner party appetizer.
Ingredients
2 cups uncooked quinoa; makes about 8 cups cooked
4 ears organic fresh corn; cut the kernels off the cobs and remove corn threads
3 cans of organic black beans, no salt added. Drain and rinse the beans.
3 large fresh jalapeño peppers, minced (remove seeds)
1 large red onion, chopped small
1 cup green onion tops, sliced thin
1 bunch fresh cilantro, minced
1 or 2 red bell peppers, chopped small
juice of one lime
about 1/4 cup white wine vinegar
juice from bottled or canned pickled jalapeño peppers, about 1/4 cup or maybe a bit more
about 1/4 cup olive oil
sea salt and pepper to taste
Optional: garnish with chopped cherry tomatoes and/or avocado.
Directions
Step 1

First, make the salad dressing. Combine the lime juice, white wine vinegar, and jalapeño brine into a small bowl. Whisk together. Then, slowly stream in the olive oil while whisking. Add salt and pepper to taste, and set aside.

Step 2

Next, place the quinoa in a fine sieve and rinse under running water. This will help remove the natural bitterness. Shake to remove excess water.

Step 3

Transfer the quinoa to a large pot, and add four cups of filtered water (or veggie broth).

Bring quinoa and liquid to a boil. Reduce heat to low, cover and simmer until tender and most of the liquid has been absorbed, 15 to 20 minutes. Fluff with a fork.

*** Let cool completely before assembling the salad.

Step 4

Once the quinoa has cooled, pour a couple of tablespoons of dressing into a large bowl. Add the cooked quinoa, corn, beans, jalapeño, red onion, green onion, cilantro, and bell peppers.

Stir gently to combine ingredients. Taste and adjust for seasonings, adding more dressing if desired.

Let sit overnight, or for a few hours (refrigerated) before eating. This will help the flavors meld. The extra dressing will keep in the fridge for about a week.

Garnish with chopped tomatoes and avocado, if using.